FedEx International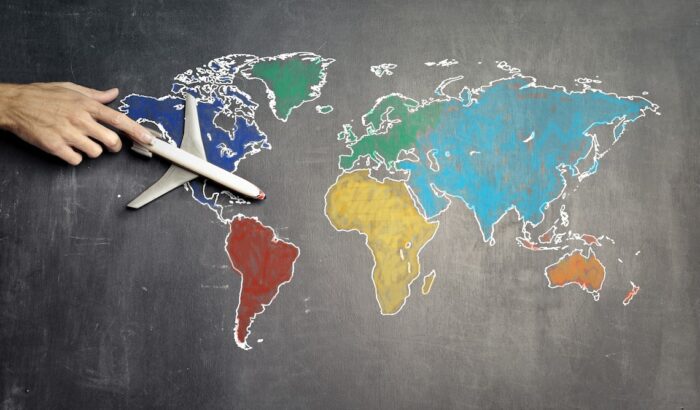 Can you ship a Federal Express package internationally within 24 hours? What is the most affordable option for FedEx international shipping?
Following FedEx's launch over 50 years ago in 1971, the company completed its first air delivery a few years later. Interestingly, FedEx's founder, Frederick W. Smith, added "federal" in part to suggest an interest in national economic activity.
If you are considering FedEx shipping, you may have some big questions about potential worldwide shipping. How do you contact FedEx International? How long does it take for FedEx to deliver internationally? Can FedEx deliver internationally? What is the cheapest way to ship FedEx International?
At FindPostOffice.org, you can search for United States Postal Offices to drop off FedEx packages.
This article discusses whether FedEx delivers internationally, how international shipping works, shipping packages and envelopes from the U.S. to other countries, a step-by-step guide to international shipping, and how to ship internationally with confidence.
We also cover how to make international shipping more efficient, how long it takes FedEx to deliver internationally, whether shipping internationally is expensive, exports of controlled items, how to contact FedEx International and frequently asked questions.
Can FedEx Deliver Shipments Internationally?
FedEx ships domestically within the United States and internationally to other countries. As of August 2022, the company ships to 220 countries and territories worldwide. FedEx International Economy ships to other countries within two to five business days.
FedEx's Portfolio of International Shipping Options
FedEx's international shipping options include:
FedEx International Economy
This option usually ships to Canada, Mexico, and Puerto Rico within two to three business days. The service ships to over 200 other countries and territories within two to five business days.
Shipping Express Freight From the U.S. to Other Countries
Options include the next available flight for critical freight shipments. Meanwhile, 1- to 5-day freight sends shipments weighing at least 150 pounds faster. Such options may be ideal if you need time-definite shipping.
FedEx International Connect Plus
FedEx International Connect Plus balances cost and speed, providing delivery times customers want at affordable prices that give your company a competitive edge. Unlike in the past, customers do not have to pay higher costs for faster shipments or sacrifice shipment speed.
FedEx International Mailservice
FedEx International MailService offers low-value, low-weight goods. This service is a popular option for several eCommerce businesses. You can save on shipping costs for items like:
Health and beauty products
Apparel
Books and magazines
How Exactly Does International Shipping Work?
Sending a product care package or other items abroad is similar to shipping packages domestically. Still, you will have to deal with significant differences in the delivery options, fulfillment, and paperwork.
Shipping Packages and Envelopes From the U.S to Another Country
FedEx International Next Flight is an option if you want the recipient to get the envelope as quickly as possible. FedEx can deliver the shipment or envelope via the next available flight for delivery to 220 countries and territories within the next 24 hours.
What if your shipment is less urgent? FedEx International Priority can deliver the shipment or envelope within one to three business days.
A Step-by-Step Guide to International Shipping
Following these fundamental steps can help ensure your shipment arrives at its destination on time and without getting stuck in customs.
Ensure FedEx Can Ship the Item As Intended
Several factors determine the products you can ship across a nation's borders and who can receive particular shipments.
You can find updated and detailed information regarding the exporting and importing requirements of more than 125 nations by reviewing the individual country commercial guides at export.gov.
Select a Particular Customs Broker and Determine the Terms of Sale
Customs brokers help your shipments clear customs without delays. What if a problem happens? Your selected broker then works on your behalf to resolve the problem.
FedEx international shipping services are generally broker-inclusive for shipments with a declared customs value of up to 500,000 USD.
You should review the policies for different services, such as FedEx International First. This service offers a faster delivery time than FedEx International Priority. However, higher shipping costs accompany faster delivery times.
Note that you and the shipment's importer or the recipient may elect a non-FedEx broker. The shipping company offers a service known as FedEx International Broker Select.
Gather Important Information
Before making customs documents and international shipping labels, ensure you have sufficient information to answer the following questions:
What Is the Main Purpose of Your Shipment?
Is your shipment for commercial, sample, return and repair, gift, personal effects or personal use? The purpose can have a huge impact on customs requirements for your shipment.
Are You Shipping Either a Commodity or Document?
Generally, commodities have commercial value, so they are dutiable, requiring a commercial invoice. Meanwhile, documents are usually written, typed, or printed matter with no commercial value and do not require a commercial invoice.
What Is Your Commodity's Value?
The declared customs value (your shipment's true value) is often higher than the carriage value (replacement value).
Do You Know Your Commodity Code Within the Harmonized System (HS)?
Every commodity is categorized under the HTS (Harmonized Tariff System) codes to meet the United States and foreign governments' customs specifications.
What Is Your Particular Commodity's Country of Origin or Country of Manufacture?
Knowing the country where the commodity was grown or manufactured helps to determine additional customs documents required. This information can impact duties and taxes.
Who Will Be the Importer or Consignee?
A shipment's importer (its owner or purchaser) and a consignee (to whom the commodities are shipped) can be the same person or two different individuals.
Would You Like to Estimate Duties and Taxes?
To assess duties and taxes, customs officials use the declared, the description of the goods, and the country of manufacture or origin. In some cases, you can choose whether the shipper, the recipient, or a third party pays for any duties and taxes.
Who Pays for Transportation Charges and Duties and Taxes?
In some cases, you can choose whether the shipper, the recipient, or a third party pays for any transportation charges, duties, and taxes.
Determine Which Customs Documents a Country Requires
The commercial invoice is the most common international document that non-document, commodity-based shipments require.
This invoice provides customs information to customs authorities, helping them determine if the goods can enter or exit a country and if any controls are required. They can also determine duties and taxes.
Create an International Shipping Label
You can complete international shipping labels and other required documents online through:
FedEx office locations
FedEx Ship Manager
You can also upload documents at these locations.
Complete and Submit Required Customs Documents
The destination of shipment content needs to remain consistent across all required documents.
This approach can help reduce customs delays. An ideal description answers these questions for each customs commodity you ship:
What is the item?
How many items are there?
What is the item made from?
What is its intended purpose?
Which country manufactured it?
Package Your Item Properly
Using appropriate packaging can help your shipment reach its destination safely and in the ideal condition. You can visit FedEx.com to purchase free self-sealing packing supplies online. Another option is to pick up the packing supplies at a FedEx store.
You should follow particular FedEx guidelines when shipping items such as dangerous products. The FedEx dangerous goods service offers various options to help ensure safe delivery.
Transport the Package to FedEx
You can drop off packages you have paid for online and labeled at a FedEx store or drop box. Another option is to visit a FedEx store to complete customs documentation and pay for shipping.
Yet another method is to schedule a pickup online, so FedEx collects the item directly from your home or office. In some situations, such home shipping internationally can be your best option.
How to Ship Internationally Confidently
FedEx can help meet your international shipping needs in various ways:
Navigate Your Destination's Regulations, Customs, and Fees
You can avoid the hassles of searching online for a destination's shipping requirements. FedEx's team can help with the process.
Ensure Your Package Has All Required Documentation
Dealing with custom documents can be challenging. FedEx provides information about the documentation to help provide an easier international shipping experience.
Make International Shipping More Efficient
The FedEx International Shipping Assist tool can provide a more efficient and accurate shipping process. Critical features include:
Instant access to the international shipping information
The ability to hold and reuse harmonized system codes
Estimated duties and taxes for repeat shipments
How Long Does FedEx Take to Deliver Internationally?
The estimated delivery times vary based on the shipment option and can include:
FedEx International Priority: one to three business days
FedEx International Economy: two to five business days
How Much Does Shipping Internationally Cost? Is It Expensive?
No standard international shipping costs exist. FedEx offers online shipping calculators and tools. These items simplify the process, help you request a quote, and find the best rates.
How FedEx Calculates International Shipping Rates
Before you ship an item internationally, make sure to understand the landed cost. This expense is the total cost related to the international shipment.
The landed cost consists of charges for the shipment from the shipping provider and duties, taxes, and fees. You can use FedEx's free tools to help calculate the total landed cost.
How to Estimate Total Landed Cost
When you are prepared to calculate the total landing cost, you can use FedEx's free tools to help make quick and correct estimates. Here are the basic steps.
Step 1: Estimate your international shipping cost using FedEx's rate calculator for international packages and express air freight. This tool utilizes basic information to provide various delivery options and estimates what you should expect to pay.
Depending on the shipment type, FedEx requires you to provide information such as the:
Origin and destination
Package weight
Package dimensions
Item value
Whether insurance is required
Step 2: After estimating international shipping costs, note them and visit FedEx International Shipping Assist. Enter the estimated cost into the tool. This step calculates the shipment's duties and taxes and guides on the correct HS code.
Step 3: After calculating the total landed cost, you can review the shipment details and select and fill out the customs documents. The FedEx Electronic Trade Documents option helps streamline the paperwork process through:
Creating documents on FedEx.com and using the shipping app to transmit them electronically.
Downloading, printing, and completing documents from FedEx and including printed copies with the shipment's paperwork.
Uploading documentation from your system.
Why Your International Shipping Price Says "Estimated"
FedEx's online shipping rates calculator estimates shipping costs based on the following:
Package's weight
Package's dimensions
Currency conversion rate
If any of those factors change, the charges can differ from the estimate.
How a Country's Duties, Taxes, and Fees Affect Shipping Costs
Duties and Taxes
The importing country's government usually charges duty and tax assessment when packages cross international borders. Clearance charges like duties and taxes can significantly affect an international shipment's total price or landed cost.
You can reduce transit times by calculating this number before you ship items internationally.
Customs Brokerage Fees
Customs brokers ensure your shipments clear customs and labor on your behalf to resolve shipment-related problems. Each international shipment must have a customs broker.
Shippers usually select brokerage-inclusive services like FedEx Express for packages with a maximum declared value of $500,000. If your shipment value is above that value, a broker must clear your shipment.
You can use FedEx or a non-FedEx broker when shipping high-value items. In 2019, the shipping company rebranded FedEx Trade Networks as FedEx Logistics to meet these customer-based complex and industry-specific aspects :
Supply chain
Transportation
Value-added services
Brokerage needs
Customs Documentation
Different international shipments require various types of paperwork. The assessed duty and tax amounts can be higher if the documents are not complete or accurate.
Other Techniques to Save on International Shipping Rates: The Cheapest Methods to Ship FedEx International
Here are some ways that can help you get more value and save money on FedEx international shipping:
Open a free shipping account.
Join My FedEx Rewards. This rewards program is free to join and offers members benefits for conducting business with FedEx. FedEx Rewards allows you to earn points. Besides that, you can earn perks like gift cards from top retailers.
Save on last-minute shipments.
Get fast discounts.
Receive packaging tips.
You can find more information about FedEx's cost-effective international shipping options on FedEx's homepage. For example, flat-rate shipping may offer cheaper shipping rates than other options.
Exports of Controlled Items
Suppose you export items that a U.S. State Department license covers or other shipments requiring extra documentation processing or governmental "sign-off" before export.
In such cases, use the FedEx International Controlled Export service option with FedEx International Priority and FedEx International Priority Express service.
These shipments include those covered by the U.S. Drug Enforcement Administration:
Export permit
Drawback
Temporary import bond
Certificate of registration
How to Contact FedEx International
You may need to communicate with a FedEx delivery manager or other personnel regarding your international package in certain situations. Here are the contact details of FedEx International in North America:
USA and Canada:
1.800.Go.FedEx
1.800.463.3339
U.S. customer service:
1.800.Go.FedEx
1.800.463.3339
U.S. International customer service:
U.S. billing inquiries:
1.800.622.1147
Cargo claims inquiries
1.800.Go.FedEx
1.800.463.3339
U.S. FedEx Express freight services (shipments over 150 lbs.):
Eight Tips for Effective International Shipping
1. Use Proper Packaging
FedEx will ship the items a long distance. Hence, it is critical to select appropriate packaging. For example, you may need additional support for fragile items to make sure they do not break or get damaged.
Consider the method of transportation. Since air shipping is gentler, you need less packaging. However, keep in mind that the cost is also higher.
2. Select the Method of Transportation
Shipping by air and sea are the most common options when sending packages internationally. While shipping by sea is less safe than by air, it is a more economical option. So, it is a better option when shipping sturdy items.
Sometimes you can also ship by land through FedEx International Ground, such as from the U.S. to Canada.
3. Research Any Shipping Restrictions
International countries restrict several items. So it is critical to ensure you understand these restrictions.
What happens if you inadvertently ship a restricted item? In that case, customs will probably retain the package for a long period. There are also some instances where you cannot receive returned cargo.
4. Prepare for Longer Delivery Times
While shipping companies sometimes offer one-day delivery for international packages, it is not always feasible. So, you should expect longer delivery times than domestic shipping.
If you are shipping to friends, family, or business customers, consider informing them of the estimated delivery time.
5. Keep Customs Fees in Mind
Foreign countries charge customs fees for international shipments. Before shipping internationally, research the customs fees for the particular products you are sending. Custom fees vary greatly based on the item's value.
6. Purchase Shipping Insurance
Unfortunately, items can get lost or destroyed while being transported. So, it is critical to purchase shipping insurance to provide peace of mind. It covers the costs of damaged, lost, or destroyed items.
This benefit is especially valuable when shipping valuable items or sending them long distances.
7. Complete Additional Forms
You may need to complete extra forms based on the country's policy when shipping particular items. In addition, rules may apply to the number of items.
Remember that failing to complete the proper forms can result in a foreign government confiscating the items and possibly not returning them to the sender.
8. Calculate Shipping Tariffs
Tariffs are fees that shipping companies charge customers to cover internationally-shipped products. These fees also cover various other FedEx freight taxes. Please be certain to research FedEx's tariff charges for your particular shipment.
From Federal Express to FedEx: A Brief History of the Shipping Giant
Here are some critical events in FedEx's history:
1965: FedEx founder Frederick W. Smith wrote a term paper while studying at Yale University that proposed a revolutionary method to process time-sensitive shipments.
1971: Smith founded Federal Express in Little Rock, Arkansas
1973: Federal Express started operations in Memphis, Tennessee, delivering over 180 packages to 25 U.S. cities during its first shipments.
1977: FedEx purchased seven 727 planes after lobbying Congress to deregulate air cargo.
1984: The company purchased Gelco Express, a Minnesota-based package courier serving 84 countries.
1987: FedEx was shipping to about 90 countries
1994: Federal Express officially changed its name to FedEx.
Frequently Asked Questions
1. What is a harmonized code?
A harmonized code is a 6-digit code that customs officials use to document products entering and exiting a country. The harmonized service of the harmonized tariff schedule determines all import and export codes.
Nearly all nations have tariff schedules on this particular system. This fact makes it easier to conduct international trade. A country assigns a harmonized code to each imported or exported item corresponding to the product type.
Countries worldwide use these numerical codes for statistics-collecting purposes. They also determine which tariffs apply to the product.
Furthermore, foreign trade regulations require exporters to include the proper classification code.
2. Which FedEx locations offer international shipping?
You can receive options and guidance for international shipping from the following:
FedEx Office
FedEx Ship Center
FedEx Authorized ShipCenter
Office Depot
OfficeMax
3. What kind of items can I ship internationally?
Based on the destination, you can have particular restrictions or necessary preparation. FedEx can guide the proper shipping, whether you are sending a book collection or a musical instrument.
4. What are duties and taxes, and how can I calculate them?
Governments impose fees known as duties and taxes on shipments entering their countries.
Before making international shipments, you should know how duties and taxes impact your shipment total. You can also get an estimate through FedEx International Shipping Assist.
5. Are in-store international shipping forms available?
FedEx offers forms required for most international shipments. FedEx team members can guide you through the international documentation required for particular items.
6. How much will I pay for an international return?
The cost of international shipping varies for initial shipments and global returns. These variances depend on the shipment's:
Origin
Weight
Destination
Desired delivery time
7. How much will it cost for FedEx to pick up international shipments?
You can schedule a one-time pickup or set up recurring pickups if you ship regularly. FedEx may charge per package or per week, depending on the service you pick. In other cases, the company will not charge anything to your FedEx account.
FedEx provides additional information about scheduling and managing pickups.
8. What is the difference between a pro forma and a commercial invoice?
FedEx uses a commercial invoice to record accounts receivable for the seller and accounts payable for the buyer. The commercial invoice's content is nearly always the same as the pro forma invoice.
Still, the final sale price can vary from the pro forma invoice. FedEx issues the pro forma invoice before the actual sale occurs to give customers a clear concept of what items to expect.
The pro forma invoice also functions as a good faith estimate, indicating what they can know beforehand. Examples include prices, terms, and average billing amount.
A customer can use a pro forma invoice to determine whether to place an order. They can use the commercial invoice to request payment for items, indicating the amount to be paid.
9. Why is my shipment held up in customs?
Clearance delays happen for several reasons, including:
Missing documentation
Incomplete, inaccurate, or missing information on documentation
Extra documentation that regulatory agencies require
Missing items of multiple-piece shipments
If the shipper or recipient must provide more information, FedEx will try to contact them. After filling out all requirements, your shipment will receive clearance to move to its final destination.
10. How do I know what customs value to include?
Customs value is the total shipment value the shipper declares to function as the basis for calculating duties and taxes. It typically indicates the selling or replacement price of the shipment.
Customs value is either equal to or greater than the declared value for carriage. Carriage involves the movement of cargo between two ports.
Suppose you are shipping 10 items at $10 apiece. The customs value would be $100 (10 x $10).
11. When do I need an export license?
Before shipping internationally, check if the product contains an ECCN (Export Control Classification Number). This five-digit alphanumeric code indicates the product's technology level and capabilities.
Utilize this code for finding when and where you require an export license.
12. What is the difference between FedEx and UPS?
The UPS (United Postal Service) and FedEx are two popular and competing delivery service companies in the U.S. The companies maintain different business models and strategies.
UPS has become renowned for its U.S. ground package delivery. Meanwhile, FedEx is famous for its global air express freight.
13. Does FedEx offer next-day international shipping?
FedEx offers international shipping within one to three business days. The options include:
FedEx International First
FedEx International Priority Express
FedEx International Priority
When comparing FedEx's international shipping services, make sure to research details such as potential weight limits. In addition, remember that faster shipping has higher costs.
14. What should I do if the cost of shipping internationally is more than expected?
Ensure the information you put into the shipping calculator is correct, as package size and weight affect shipping costs. If the cost is more than expected, try repackaging your items in a smaller box or opting for a slower service.