Mail Processing Clerk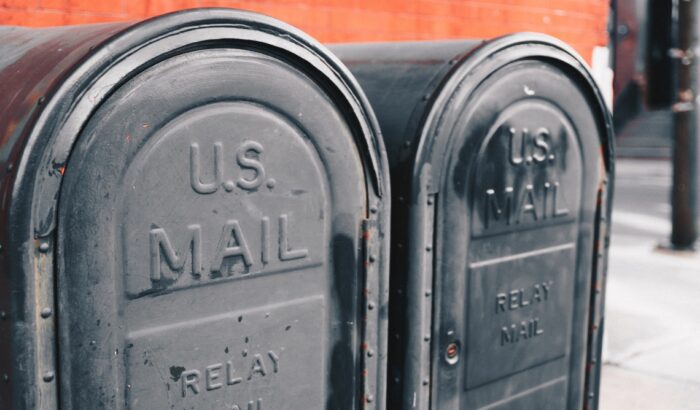 USPS (United States Postal Service) employed 516,636 individuals in 2021. That same year, USPS collected 77 billion U.S. dollars in revenue from delivering more than 128.8 billion mail units. 
USPS is actively recruiting for various jobs, including mail processing clerk positions. But what does a mail processing clerk do? What are the USPS requirements for a mail processing clerk? If you're interested in applying for such a post, this article is for you.
The write-up discusses what a mail processing clerk does. It gives information on how to become a mail processing clerk, including USPS requirements for hiring individuals for that particular position.
The article also covers the average salary of a mail processing clerk and other key information.
FindPostOffice.org provides you with an easy and accessible post office lookup in California, Texas, New York, Pennsylvania, Illinois, and other states including Alaska and Hawaii. The site lets you access information related to USPS, including its services and job offerings.
Read on to learn relevant information on becoming a mail processing clerk.
What Does a Mail Processing Clerk Do?
Mail processing clerks are postal support employees for the U.S. Postal Service. They're responsible for accurate and timely mail delivery.
Mail Processing Clerk Job Duties
Mail processing clerks must have detailed knowledge about sorting various types of mail. It's crucial to follow the correct procedures so that packages reach their destination on time.
The job duties of a mail processing clerk include the following:
Sorting and preparing mail for distribution
Distributing mail to different locations within a facility or post office for further processing
Scanning incoming mail to extract information from images, bar codes, and other markings
Maintaining records of postage payments and other transactions
Sorting mail by destination ZIP code or other designations, like bulk mail status or priority
Performing inventory checks of incoming mail
Maintaining a log of all mail items that include information like delivery dates, status update, attempted delivery dates, and sender and recipient addresses
Scanning outgoing mail items' bar codes and other markings to track the packages while in transit to ensure successful delivery
Putting mail in bags or mail bins by type of mail or address
Mail Processing Clerk Salary and Outlook
As of December 27, 2022, mail processing clerks in the United States receive an average salary of $35,380. However, the range usually falls between $31,650 and $39,750.
Salaries may vary depending on various factors, such as the years an individual spent in this profession, certification, additional skills, and education.
The U.S. Bureau of Labor Statistics reported that the overall employment of postal service workers is expected to decline by 6% from 2021 to 2031.
For instance, the rise of information technology and electronic communication may have decreased the number of mail that businesses should send. So, mail processing clerks don't have much mail to sort and distribute.
Still, about 38,100 openings for postal service workers are expected annually, on average, over the decade. All of these openings may result from the need to replace employees who exit the labor force or transfer to other occupations.
Additionally, eCommerce companies ship large volumes of packages, so there's still a need to screen and process these parcels.
Mail Processing Clerk Job Requirements
The job requirements for mail processing clerks include the following:
At Least a High School Diploma or Equivalent
Suppose you're interested in applying for a mail processing clerk position. You must have at least a high school diploma or equivalent. Although post-secondary education is not necessary, it may help you qualify for a wider variety of positions and increase your earning potential.
Basic Computer and Arithmetic Skills
To become a mail processing clerk, you must have basic computer and arithmetic skills. Experience in using database and spreadsheet software and word processing may give you an advantage.
Training and Experience
Generally, mail processing clerks undergo on-the-job training. The training may include learning the company's mail processing equipment and software and completing daily tasks.
Your training may last for a few days or weeks, depending on the company's policy or your experience.
Certification and Licenses
Although mail processing clerks do not need any certification to earn their position, some certifications can help you advance through the mail processing career ladder.
A mail processing clerk certificate proves that you've been trained to handle mail efficiently and safely. Such a certificate also shows employers that you've invested in yourself by learning about the industry.
NPMHU (National Postal Mail Handlers Union) represents more than 50,000 mail handler craft members in USPS facilities across the U.S.
The agency offers mail processing clerk certification to individuals who have shown proficiency in the mail processing field.
Suppose you want to achieve such a certification. First, you must pass a written exam covering mail-related topics like mail sorting techniques, customer service practices, mail handling procedures, and USPS regulations. There's also an on-site performance evaluation.
Aside from these certifications, mail processing clerks must also have a valid driver's license.
Mail Processing Clerk Skills
Mail processing clerks must have these skills to be successful:
Mail processing clerks must exhibit accuracy, thoroughness, and consistency when handling mail. They must ensure that all the mail they manage is correctly sorted and addressed.
Attention to detail can also help them accurately fill out documents for every piece of mail they process.
Mail processing clerks must organize the mail they sort and even their workspace. They should track where each mail goes and keep their work area clean.
Mail processing clerks must interact with customers and other employees. So, they should be able to communicate effectively. Mail processing clerks should know how to interpret customer messages and relay relevant information to their coworkers.
Having computer skills is necessary for mail processing jobs. Mail processing clerks use computers to track and sort mail, enter data, and complete other tasks.
Mail processing clerks work in large mail rooms with other employees. There are instances when they move heavy boxes of mail during their shift. That's why being physically fit is essential to avoid fatigue and maintain a healthy work pace.
Mail Processing Clerk Work Environment
Usually, mail processing clerks do their tasks for 40 hours a week but may work overtime during busy periods. These individuals are assigned to postal service offices, where the work environment is temperature-controlled and well-lit.
Mail processing clerks' tasks may seem repetitive, but they are physically demanding since these personnel lift heavy bags of mail and are on their feet for long periods.
Mail Processing Clerk Trends
To be a mail processing clerk, you have to stay up-to-date on industry-related trends to maintain a competitive edge in the workplace.
The Rise of Automation
Studies have shown that 47% of jobs in the U.S. are susceptible to automation between 2010 and 2030. Mail clerks, mail machine operators, postal service mail sorters, and processors are among the top occupations at risk of technological displacement.
Still, you can take advantage of this trend by familiarizing yourself with the latest advancements in automation technologies. Knowing about automation allows you to work more efficiently.
Workplace Diversity
Organizations that promote diverse workplaces attract and retain quality employees and increase customer loyalty. Promoting workplace diversity also translates to effectively delivering services to various communities with different needs.
USPS is committed to an equitable, diverse, and inclusive workplace where every employee has an opportunity to thrive.
To be a successful mail processing clerk, you should be prepared to interact with individuals from different cultures and backgrounds. You must communicate effectively and adapt to changes to keep up with the fast-paced business world.
How to Become a Mail Processing Clerk
Becoming a mail processing clerk takes less than a month of training. The most common occupations you can try before becoming a mail processing clerk are customer service representatives, cashiers, and sales associates.
Here are the six steps to becoming a mail processing clerk:
Consider the education requirements to become a mail processing clerk. Usually, you only need a high school diploma to become one.
Develop mail processing clerk skills, such as knowing safety precautions, stacking, sorting, and processing equipment.
Complete internship or relevant training.
Research the duties of a mail processing clerk, such as performing mail preparation manually and automatically and maintaining customer confidentiality based on USPS policies.
Prepare your resume.
Meanwhile, here's what you need to do to apply for a mail processing clerk position and other job postings available at USPS:
The USPS Application Process
Search Jobs
The USPS application system is called eCareers. The agency has daily job postings. You just need to search only by keyword (e.g., mail processing clerk), location, and functional group.
Create a Profile and Apply
You must create a candidate profile through the USPS eCareers system. Expect a confirmation email from USPS once you're done with the application.
Undergo Assessment, if Required
USPS will conduct prescreening employment. The agency will reach out to you through email with the next steps. Note: not all positions require an assessment.
Check Your Email
Keep an eye on your email once your application is complete.
Advancement Prospects
Mail processing clerks usually start out in entry-level jobs. You may advance to managerial career positions depending on your years of experience and credentials. Some mail processing clerks move to other postal services occupations like postal officers, transfer to federal government jobs, or work in private sectors.
PSE Mail Processing Clerk at USPS
USPS recruits PSE (postal support employee) mail processing clerks who perform various clerk duties, including manually sorting and distributing mail and using automated mail processing equipment.
USPS provides benefits to PSE mail processing clerks, including health insurance and paid vacation leave.
Check out this page for available job postings, such as city carrier assistant (CCA), rural carrier associate (RCA), and assistant rural carrier (ARC). Read the individual job descriptions to see which post fits you.
What Does PSE Mail Processing Clerk Mean?
PSE stands for postal support employee. PSE mail processing clerks are temporary, noncareer positions that USPS offers. On average, these individuals earn $19 per hour and work 40 hours weekly.
What Are the USPS Mail Processing Clerk Requirements?
Here are the USPS requirements for employing mail processing clerks:
Pass a background check
Pass a drug screening
Be a U.S. citizen or a permanent resident alien
Be a resident in the U.S. for the last five years
Be at least 18 years old (USPS accepts 16-year-old applicants with a high school diploma)
Lift and carry mail trays that weigh up to 70Ibs
Stand for long periods
What Is the USPS Application Process for Being a Mail Processing Clerk?
USPS will evaluate applicants based on their English language knowledge and customer service and technical skills. Aside from these fundamental criteria, applicants must also pass the Postal Exam 476.
Postal Exam 476, or the USPS Virtual Entry Assessment, is the primary screening test for the mail processor job. The test combines questions evaluating one's behavioral and personality traits and attention to detail. Aspiring applicants must reach a minimum score of 70.
Do PSE Mail Processing Clerks at USPS Get Benefits?
PSE mail processing clerks are temporary employees, so they receive limited benefits, particularly during their first year of service. Benefits may include health insurance and paid vacation leave.
What Hours Do PSE Mail Processing Clerks at USPS Work?
PSE mail processing clerks at USPS work for different hours, so their days off also vary. USPS must meet mail processing demands in real time, so the agency expects PSE mail processing clerks to work flexible hours.
What Is the Difference Between a Mail Handler and Clerk for USPS?
Mail handlers and mail processing clerks are entry-level jobs. Individuals with these job titles play crucial roles within the USPS.
Mail handlers load, unload, and move bulk mail in every part of the USPS building. These individuals facilitate the system's processing and distribution of packages and letters.
Mail handlers unload and segregate incoming mail from conveyors or trucks. A major requirement for this position is the ability to carry heavy bags of mail and handle large containers weighing up to 70lbs.
Meanwhile, mail processing clerks operate and maintain various types of automated sorting and scanning machines for mail processing and distribution. These individuals also hand-sort packages and letters, as required.
Mail processing clerks move processed mail to transport distribution centers. So like mail handlers, the former also lift and move containers and heavy mail bags.
Permanent vs. Temporary
USPS offers permanent and temporary positions for mail processing clerks and handlers. The agency employs casual or postal support employees to help during heavy demand periods, such as holidays.
FAQs About United States Postal Service Workers (Mail Processing Clerks)
What is the highest pay for United States postal workers (mail processing clerks)?
As of December 27, 2022, the highest salary for mail processing clerks in the United States is $43,729 yearly.
What is the lowest pay for United States postal workers (mail processing clerks)?
As of December 27, 2022, the lowest pay for mail processing clerks in the United States is $28,254 yearly.
How can the United States Postal Service workers, mail processing clerks, in particular, increase their salary?
Mail processing clerks may increase their salary or earning potential through post-secondary education.
What professions are similar to mail processing clerks?
Office manager, administrative assistant, office administrator, and administrator on duty are professions similar to mail processing clerks.
Is it hard being a mail processing clerk?
Being a mail processing clerk may be hard because the job is physically demanding. Although the work is repetitive, mail processing clerks carry heavy mail bags and are on their feet for long periods.
Many PSE mail processing clerks also report working up to 10 hours daily with little downtime and without consecutive days off.
What is it like working as a mail processing clerk?
Mail processing clerks spend several hours of their workday standing. According to the USPS website, the job duties of PSE mail processing clerks include carrying and lifting moderate to heavy packages and mail, requiring them to stand for long periods.
If you enjoy working in a fast-moving environment with occasional interactions with the public, a mail processing clerk post could be the right job for you.
Is a mail processor a good job?
Jobs at a post office, like a mail processor, can be a good option for those seeking employment after high school. A high school diploma is the only formal educational requirement for the position. 
References