USPS Tracking Number Format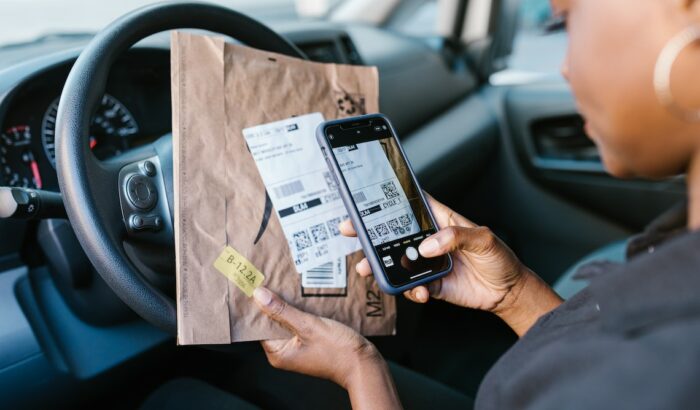 When shipping via United States Postal Service (USPS), you need a tracking number to track your package.
Understanding the USPS tracking number format can be tricky. For example, many shippers don't know the different tracking number formats even though it's a crucial aspect of the shipping process.
Whether a consumer or an eCommerce business owner, you might wonder about:
How the service "Track My USPS Shipment" works
Whether tracking numbers follow a specific format or they are just random numbers and letters
What USPS tracking numbers look like
How to get a USPS tracking number
Aside from tracking packages using tracking numbers, you can also search for nearby post offices and connect with a local post office directly.
FindPostOffice.org makes it easy for you to locate the nearest post office. This site offers essential information on all 31,330 post offices nationwide.
Meanwhile, would you like to learn more about USPS tracking numbers?
This article discusses the use of a tracking number and what it looks like, including its specific format, which uses numbers and letters. You'll also read some USPS tracking numbers examples and learn how to get them.
What Is the Meaning of "Track My USPS Shipment"?
Simply put, "Track My USPS Shipment" is a free service that helps track your USPS package.
You can access this package tracking feature on most platforms, including iOS, Android, and the web, to help you know the status of your shipment.
Track My USPS Shipment also provides the tracking status and number for your package and the location where it will be delivered. This feature can be helpful if someone else is picking up the package for you or if you want to follow it on its journey from the post office to your home.
What Is USPS Tracking Number?
The U.S. Postal Service can track any package. So, most packages they get from USPS customers have tracking numbers.
The USPS assigns these numbers to its customers. It's also called an article number or a label number.
You can only track a package by getting the USPS tracking number if you have included one of the below-mentioned lists of USPS postage with your purchase.
You might only get the USPS number if you have one of the postages. USPS tracking numbers come with the following postage:
Collect On Delivery Hold For Pickup
Certified Mail
USPS Tracking
Global Express Guaranteed
Priority Mail
You must have one of the abovementioned postage types to receive a tracking number. However, in some cases, you can get this number at an extra cost.
Tracking Number Format
The USPS tracking number format is often a sequence of 20 to 22 digits without letters or other characters. For example, 9242 3847 3838 30000000 43.
Depending on the shipping options, this number may vary. For example, USPS Express Mail numbers can consist of 13 characters, starting with two capital letters and ending with "US." For example, EC 000 000 000 US.
Here are examples of what tracking numbers may look like for various USPS shipping methods:
USPS tracking number: 9400 1000 0000 0000 0000 00
Certified Mail number: 9401 3000 0000 0000 0000 00
Priority Mail number: 9205 5000 0000 0000 0000 00
Collect on Delivery Hold for Pickup number: 9303 3000 0000 0000 0000 00
Global Express Guaranteed number: 82 000 000 00
Priority Mail Express International number: EC 000 000 000 US
How Many Digits Are USPS Tracking Numbers?
The USPS tracking number usually consists of 20-22 digits.
Priority Mail Tracking Number
USPS priority mail services include a tracking code or label number as part of the service. Depending on your chosen delivery service, you can get this number online or at the local post office.
USPS priority mail tracking number is free of charge. Additionally, this shipping service gives you a tracking update once your priority mailing item arrives.
The tracking information includes the date of the delivery, the time of delivery, or the attempted delivery.
USPS Tracking Format Explained
As mentioned above, the format of tracking numbers differs depending on the USPS shipping method.
A typical tracking number format is 20 – 22 digits (9205 5000 0000 0000 0000 00) or a combination of 13 alphabetic and numeric characters such as EC 000 000 000 US.
Generally, a tracking number looks like any of the following examples:
Format 1: 9405 5000 0000 0000 0000 00 (22-digit tracking number)
Format 2: EC 000 000 000 US (starts with two alphabets, followed by nine digits, and ends with "US")
Format 3: Less common formats may only have ten digits.
Understanding the First Four Digits
It's the first four, and sometimes five, numbers that define the service code. You can find out what mail service you're using by these numbers.
How to Find Tracking Number USPS
Here's a list of steps and reminders to help you find your USPS tracking number:
The first thing you must know is which USPS postage includes tracking.
USPS doesn't include tracking with all its postage by default.
You must know that only the USPS tracking service includes Collect on Delivery, Priority Mail, Certified Mail, Global Express Guaranteed, Registered Mail, USPS Tracking, and Signature Confirmation.
You can have a tracking number only with these postages. Suppose you accessed a shipping method not included in the lists above. In that case, you can only get a tracking number if you pay extra money.
Save the receipt from the USPS for the tracking number lookup.
Usually, you will find your shipping label on the slip or receipt. If you can't locate the shipping number on the receipt, you can ask one of the USPS employees to assist you.
Keep this receipt safe with you at all times. Tracking labels consist of a long number of digits. Note that this tracking number is also called the article number.
You can also track the tracking number in your email. You will receive an email with the label number when you order something online.
Your account may also highlight the USPS label number, depending on where you ordered your shipment. Take note of the shipping label number.
Once you have found the shipping number from one of these locations, you must go to the USPS website.
On the USPS homepage, you'll see a blank space at the top for searching shipping numbers. Type your tracking number there, then click enter to check your shipment's status.
Where Is the Tracking Number on USPS Receipt?
Tracking numbers of USPS are generally easy to trace since they contain digits. But some people may need help finding the tracking number on their USPS receipts.
You can find the tracking number on your shipping receipt from the post office. You can also find it on the receipt of your package if you purchase insurance from USPS.
Many USPS customers prefer to do their work online rather than go to the post office.
It's typical for these customers to ship their mail items from the official USPS website. In such cases, USPS customers can find the tracking number in their inboxes or email accounts.
The tracking label may also appear on the peel-off portion of the package. So, you can check the tracking number just below the tracking label of the package.
At the same time, you can also receive tracking information in the confirmation email sent by the online retailer.
Occasionally, the USPS may deliver late. If this incident happens, you can find and use the tracking number on the back of the orange slip.
Furthermore, you will automatically receive a tracking number if you use USPS priority mail service. Local post offices and online services offer Priority mail.
You can get the delivery time and date of your shipment using the tracking number for USPS priority mail service without paying extra.
How Do I Find My Tracking Number Without a Receipt?
There is no way to retrieve lost tracking numbers. However, you can locate your tracking number on the following:
Sales receipt
Self-service kiosk e-Receipt
Mailing receipt
Below the barcode put on the mailed item
Online label record if you buy postage online (for example, through eBay, Click-N-Ship, or other services)
How Do I Access USPS Tracking Information?
The type of tracking and delivery information you receive depends on the mail class or add-on services you purchased. Whatever you're sending or receiving, you can track a package by accessing USPS tracking information:
Call 1-800-877-8339 to obtain telecommunications devices for the deaf/teletypewriter (TDD/TTY).
Stay up-to-date with automated information 24 hours a day, seven days a week.
How to Track a USPS Package
In most cases, customers pay little attention to the tracking number format. The most critical aspect is noting the tracking number to track the package.
You can find the tracking number in several places depending on how you mailed the package.
For example, your sales receipt and the peel-off portion of your USPS tracking label will indicate if you shipped via the post office. At the same time, the label will appear on your online account dashboard if you print it through an online service.
Enter your tracking number on the USPS tracking webpage to track your package.
Tracking Tips
Here are some tips for tracking your package:
Make a copy of the USPS tracking number and keep it in a safe place.
You can print the tracking number from the USPS website or your confirmation email and keep that copy.
Use a printer that can print small text, like a laser printer or inkjet print. If you're using a regular inkjet printer, make sure you're printing on plain white paper with no background.
You can keep your package in its original box. However, remove anything that might damage the tracking number (like scissors) or any material that could give away its contents.
Pens and pencils might mark your package's address label, so keep these items away from your tracking label.
Track packages by entering the delivery address on the USPS website or by calling 1-800-ASK-USPS.
Wait two weeks before sending a replacement item if you need to replace a lost or stolen package. When unsure if your package was lost or stolen, call 1-800-ASK-USPS and ask for an investigation.
Use an expedited shipping method to deliver your package faster than regular mail. However, note that there's usually no tracking info for these services.
If your package or mail has been marked as "delivered" but is still missing, contact USPS immediately and file a report.
The USPS is one of the largest postal carriers in the world, and it's responsible for moving millions of packages daily. With this volume comes the need for a tracking system to keep up with them.
The USPS can use its tracking number to tell you where your package is at any time, so you don't have to wonder about the current status of your shipment.
The USPS tracking number is a unique identifier that can track your package's delivery. It will also help you get information about your package to know if it has arrived at its destination.
The postal service usually provides this tracking code or label. Whether you're shipping a letter or a small-to-large package, you'll need this identifier for most USPS parcels.
Lastly, you can use the USPS tracking number to track your package from when it leaves your home until it reaches its destination. This option means that you have a better chance of knowing when your package will arrive at its destination. Also, you will immediately know if there is any problem during transit.
FAQs
In which service does USPS provide tracking?
You can't track a package without a tracking number. You'll also be unable to know the status of your shipment.
However, note that Postcards and First-Class Mail letters have no tracking numbers. Only services like the following have tracking numbers:
Collect On Delivery Hold For Pickup
Certified Mail
USPS Tracking
Global Express Guaranteed
Priority Mail
How is a tracking number generated?
Usually, you'll receive a tracking number randomly if you choose a service that lets you prepare the shipping label online.
On the other hand, if you transact at a local post office, you will receive a tracking number sticker on the package.
What is the reason for not having tracking records?
Incorrectly typed tracking numbers are one of the most common reasons for not having tracking records. If you need clarification on the number, contact the sender. In addition, a new package can take up to 24 hours to appear in the system.
Why is my USPS article or tracking number not working?
The tracking number may not work or contain errors if the courier hasn't picked up or scanned your shipment yet.
You should wait 20-48 hours for the shipping courier to log your tracking number. Suppose you still experience tracking number issues after this specified duration. In that case, you can contact USPS to verify if you have the correct information.
Is the tracking number the same as the article number?
Yes, "article number" is just another term for the tracking number.
Does the USPS tracking number have letters?
USPS tracking numbers typically consist of 22 digits, arranged in four-digit groups, like 9400 1234 5678 9999 8765 00.
But many other tracking numbers follow different formats. For example, some tracking numbers start with the letters "EC" or "CP," indicating that the package is being mailed overseas.
Do all USPS tracking numbers start with 9400?
Almost all domestic services, including USPS Priority Mail, begin with numbers like "9400."
On the other hand, USPS international tracking numbers start with a letter combination.