Arrived at USPS Regional Destination Facility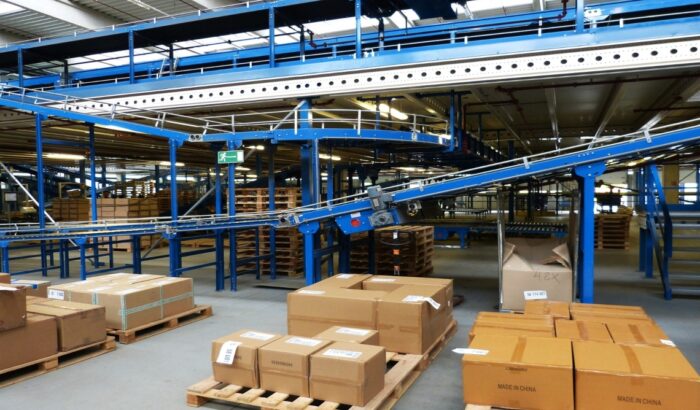 In 2021, USPS (United States Postal Service) delivered over 128.8 billion mail units and collected 77 billion U.S. dollars in revenue.
The agency reported that about 23.28 billion U.S. dollars in revenue came from their First-Class Mail service. Millions of mail pieces were moved through USPS regional facilities daily toward their final destination.
Let's say you got a tracking update notification stating, "Arrived at USPS Regional Facility". What does it mean? What are USPS regional facilities? Is your mail safe at a regional facility? How soon after leaving a USPS regional facility will your mail be delivered?
This article explains what "Arrived at USPS Regional Facility" means. It gives insights into USPS regional facilities and discusses whether leaving mail there is safe. The write-up also explains how soon your mail can be delivered after leaving a regional facility.
FindPostOffice.org provides you with an easy and accessible post office lookup. Our site lets you access information related to USPS and its services. We also explain message notifications you receive from USPS, such as "Arrived at USPS Regional Facility". 
Read more about the "Arrived at USPS Regional Facility" notification and other related information.
What Is the Meaning of "Arrived at USPS Regional Destination Facility"?
"Arrived at USPS Regional Destination Facility" means that your mail item moved from a USPS centralized distribution center to another distribution facility.
Once a USPS distribution center receives your mail item from another distribution facility, you'll get the status message "Arrived at USPS Regional Destination Facility" on your USPS Tracking page.  
After you receive that message, you'll soon get another notification informing you that your mail item will depart from that facility and will move to a local post office.
From the local post office, postal workers will prepare your mail item for delivery to your home.
What Does the Status "Arrived at USPS Regional Origin Facility" Mean?
"Arrived at USPS Regional Origin Facility" means that your mail item has arrived at the first USPS distribution hub. The postal workers will then dispatch your mailpiece to the next regional facility.
When Your Mail Takes a Wrong Turn
USPS may send mail to the wrong facility by mistake for several reasons. For instance, postal workers may forget to remove old routing labels from reusable bags or trays.
Mail bins may also fill up at sorting machines. When there's an overflow, it can obstruct the mail chute, pushing incoming mailpieces into bins for other locations.
What Are USPS Regional Facilities?
USPS regional facilities are clearinghouses that ensure every mailpiece is processed and distributed accordingly.
There are 22 USPS regional facilities across the U.S. On average, a package or mail takes 24 hours or less at a regional facility before postal workers transfer the item to the following route.
However, unavoidable circumstances, such as faulty machinery or bad weather, may cause your mailpiece to spend more than 24 hours in a USPS regional facility.
Some states with regional facilities are New York, Florida, Illinois, California, Texas, and Pennsylvania. 
Role of a USPS Regional Facility
The role of USPS regional facilities includes processing, sorting, and redistributing mail packages. Postal workers at these mail processing and distribution centers sort items based on the delivery address. Hence, providing the correct destination address for your shipment is crucial.
Is Your Mail Safe at a Regional Facility?
You can rest assured that your mail is safe at a regional facility. The U.S. Postal Service, a federal government division, runs regional facilities that are as secure as any other federal property.
These facilities made considerable investments in safety and security. In addition, USPS or other subcontractors hire employees from these sorting centers.
How Does the Process Work Once Your Package Arrives at a USPS Regional Destination Facility?
Every region in the U.S. has a network distribution center. Your USPS package moves through different regional distribution centers until it reaches the one closest to your place.
When your package moves from one regional distribution center to another, you'll see the "In Transit to Destination" status, implying that your parcel is on its way to you.
How Long Will It Take For Your Mail to Arrive at a Regional Facility?
There isn't a standard period for how long it should take before your mail arrives at a regional facility and moves to its next destination. However, mailpieces usually spend 24 hours or less at a regional facility if issues like faulty machinery and bad weather don't occur.
How Soon After Leaving a USPS Regional Facility Will Your Mail Be Delivered?
When you see the status "Departed USPS Regional Destination Facility" on the tracking page, your mail item has left the distribution center.
It's difficult to determine how soon you'll get your mail item after it leaves a regional facility.
Usually, the shipment travels to numerous distribution centers until it reaches the destination post office. From your local post office, postal workers will prepare the delivery of the mail item to your home or office.
Let's say you receive a notification informing you that your mail has arrived at the nearest regional facility in your area. In that case, the delivery is imminent, and your mail may arrive at your front door within the next day or two.
Why Is Your Package Just Sitting at a USPS Facility?
There could be various reasons your package is just sitting at a USPS facility. Here are a few factors why your package isn't moving:
International Shipping Delays
Packages that are going out or coming into the country are subject to all kinds of international shipping delays. So give yourself much lead time as possible.
Address Issues
When the shipping address isn't accurate, then there will be a problem in delivering your package. Take your time filling out your address details, and make sure you spell everything correctly.
Customs Issues
Packages heading out to international addresses or coming in from overseas can get delayed or slow down in customs. Some parcels may even require special documentation to pass customs clearance.
Parcel Was Lost in the Shipping Infrastructure
Postal workers may misplace or mismanage your item. However, such a scenario is relatively uncommon in USPS.
Weather and Traffic Delays
Traffic and bad weather conditions, such as natural disasters, severe storms, flooding, and high winds, may result in a delay.
Parcel Was Overweight or Oversized
Heavier packages may cause unexpected delays. For instance, if your parcel is overweight and oversized, USPS may send it back to you for extra postage, or the agency may recommend a different shipping service.
Incorrect Postage
Incorrect postage can also cause a delay. Your package can't move through the rest of the postal facility until you pay the proper postage. For this reason, use shipping calculators to know the correct postage for your mail.  
Can You Pick Up a Package From a USPS Destination Facility?
Suppose you want to pick up your parcel before USPS delivers it. You can go with USPS Package Intercept.
USPS Package Intercept allows shippers or receivers to stop delivery or redirect a parcel, flat, or letter that's already delivered or not out for delivery. Domestic mail services with extra service barcodes or USPS Tracking are eligible for Package Intercept.
You may also visit this page to hold a package for pickup. Simply fill out the information needed and follow the necessary steps.
Let's say you re-select insurance options for an initially insured parcel. The first $50 insurance is free, and the value will remain the same.  
Where Do Packages Go After Leaving a Distribution Center?
Packages may branch into another regional distribution center closer to their destination address.
Suppose a parcel is already near its destination address. Postal workers will hand the item over to the closest destination facility. Then, they'll take the package to the local post office and drop it off at the recipient's doorstep.
USPS Regional Facility (How to Find)
Visit this page and enter your city, state, or ZIP code in the search box to see USPS regional facilities near you.
You can find four major USPS sorting facilities in the Atlanta metropolitan area, each operating based on a fixed schedule.  
Here are the four major USPS sorting facilities in Atlanta:
The Crown Road facility in Hapeville
The Bulk Mail Center
The North Metro facility
The Airmail Center at Hartsfield International Airport
Tracking
Go to the USPS Tracking page and enter your tracking number to see all the details regarding your package. You may also call 1-800-222-1811 if you want a representative to help you regarding USPS regional facility tracking.
What Does Your USPS Tracking Status Mean?
You'll see various tracking statuses at different times once you track your package on the USPS website.
Here are the most common USPS tracking statuses:
Pre-shipment
Not Trackable: USPS hasn't scanned the shipping label into their system yet, so there's no tracking information.
Label Created, Not Yet in System: USPS hasn't scanned the created label.
In Transit
Arriving Late: The parcel is arriving later than USPS originally intended.
Processed at USPS Destination Facility: USPS processed the parcel at the destination facility based on the ZIP code, city, and state.
Outbound – Out of U.S. Customs: U.S. Customs already released the parcel to USPS. The item is ready to be shipped internationally.
Arrival at Unit: The parcel is already at the destination post office on the indicated date and is scheduled for delivery.
Arrived at USPS Facility: The parcel is already at the sorting facility indicated by the ZIP code, city, and state.
Departed USPS Facility: The parcel has already left the sorting facility indicated by the ZIP code, city, and state.
Out for Delivery
The "Out for Delivery" status means that your parcel has reached the final stage of the delivery process. USPS intends to deliver your item to you on the specified designated date. 
Delivered
Delivered: The U.S. Postal Service has delivered your parcel without any issues. The delivery scan recorded the date and time of the delivery.
Delivered to Agent: The U.S. Postal Service delivered the parcel to an agent (representative) of the institution or residence.
Picked Up: The receiver picked up the parcel at their local post office.
Available for Pickup
The receiver may pick up the parcel at the post office or specified USPS facility.
Accepted
USPS in Possession of Item: This tracking status means that USPS has picked up the parcel.
Origin Acceptance: USPS receives the parcel at the sorting facility designated to the ZIP code a customer is shipping from.
Acceptance at Destination: The parcel has arrived at the post office or destination USPS processing facility.
Delivery Attempt
No Access: The post office workers can't access the delivery location.
No Secure Location Available: No location is safe enough for package delivery. Customers didn't give an endorsement to "leave if no response".
No Authorized Recipient Available: This status is typically for parcels with Signature Confirmation service. The tracking status means that no one is available to accept the parcel.
Receptacle Blocked: Something is blocking the delivery receptacle's path.
Held at Post Office Customer Request: The U.S. Post Office is holding the parcel at the destination post office upon the recipient's request.
Return to Sender
Vacant: The business location or residence is vacant, with no recipient available to receive the parcel.
Unspecified or Unclaimed: The parcel is being returned to the sender for an unspecified reason.
Forward Expired: The receiver's forwarding order is no longer valid.
Alert
Sent to Recovery Center or Dead Mail: USPS can't forward, deliver, or return the parcel, so the agency has sent the item to a mail recovery center.
Forwarded: The receiver has an active forwarding order, and USPS sent the parcel to the new address.
Refused: The receiver refused to accept the item at the time of delivery.
Awaiting Delivery Scan: This tracking status means that an acceptable delivery event hasn't occurred within 14 hours since the parcel has been marked "Out for Delivery".
Regional Facility Phone Number
You cannot directly call a regional facility to ask where your mail is. However, there are various ways to contact USPS.
For instance, the USPS Mailing and Shipping Solutions Center or MSSC assists with shipping and mailing issues. Contact MSSC by calling 1-877-672-0007 or emailing the branch at MSSC@usps.gov.
FAQs
What about special mail?
Priority Mail is special mail held at a USPS regional facility for less than 24 hours. Postal workers load this type of mail in the truck at the earliest possible time.
Best practices for faster delivery: is it possible to make the shipping process faster?
One of the best practices for faster delivery is to include a landmark near the receiver's address so that the USPS driver can easily identify the location. Including a phone number and your address is also necessary.
What is a regional distribution center?
A regional distribution center functions as a type of central hub for mailpieces destined for that region or passing through on their route to another regional distribution facility.
How long does Priority Mail stay at a USPS regional facility?
Priority Mail stays for less than 24 hours at a USPS regional facility.
Does USPS deliver mail on Sundays?
USPS delivers mail on Sundays. However, it depends on the mail type and location. The agency delivers Priority Mail Express and Amazon packages on Sundays. It is available for delivery to most U.S. addresses, including P.O. Boxes.
Suppose you're considering weekend delivery to most residential locations. You may try FedEx Home Delivery instead.
What does "In Transit to Next Facility" mean?
"In Transit to Next Facility" means that the package is ready and on its way to delivery.
When should I submit a Missing Mail search request?
Suppose it has been seven business days since completing your online help request form, and you still haven't received your package. It's time to submit a missing mail search request.
What is "Shipping Label Created, USPS Awaiting Item"?
This status means that you've created a label for your package, but that item is not yet in the USPS system.
9. What is a sectional center facility?
A sectional center facility or SCF is a USPS processing distribution center in a designated area. SCF is defined by one or more three-digit ZIP code prefixes.   
References