FedEx Overnight Cost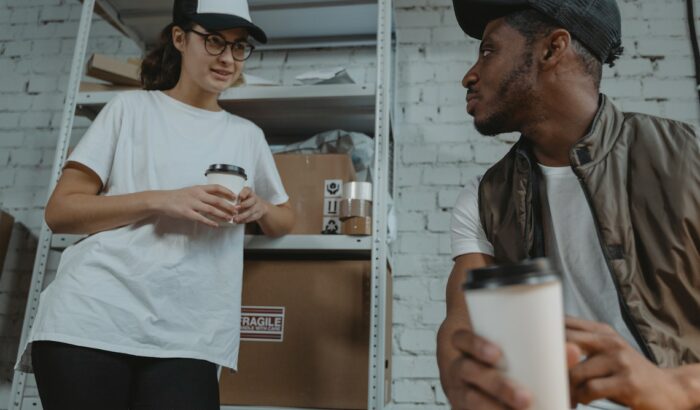 Do you need an overnight delivery service? FedEx Overnight shipping, which guarantees shipments are delivered within the next day, can help you out.
You may have questions about this shipping service, like how it works and how much it costs.
Do you need a step-by-step guide to help you weave through the overnight shipping process of FedEx? Are you curious about the different types of FedEx overnight shipping services?
This article discusses the cost of FedEx overnight shipping and how it works. This article also provides a walkthrough of the overnight shipping process and how you can take advantage of FedEx services.
This article also explains the different FedEx services, rates, and how to calculate costs when sending packages overnight.
FedEx and USPS are big delivery companies that offer overnight shipping in the United States. These companies work together to ensure that your packages are delivered safely and quickly.
If you need a database of post offices in the country, visit FindPostOffice.org. You will have access to a comprehensive list of 31,330 USPS retail offices in the country.
FedEx Overnight Shipping Cost
The FedEx overnight shipping service has three options for next-day deliveries: Standard Overnight, Priority Overnight, and First Overnight.
These options can deliver your package overnight in the United States but at different hours of the day. To know more about costs, you should determine the rates of each type of mailpiece sent.
Determining Shipping Rates
For you to determine your freight rates, follow these three tips:
You need to find the zone for your destination: The United States is divided into different zones. Each area determines the rates and how long it will take for the package to reach the intended recipient.
You need to determine the weight of the package: Weight directly affects the rate you need to pay for your package. So, it is essential to weigh your package accurately.
After learning the destination zone and package weight, you can now calculate your rate and shipping prices.
Overnight Letters
FedEx offers overnight letter deliveries in the United States, which cost $32.03. The letter can reach the recipient at around 3:30 PM. If you want the package to reach the receiver much earlier, you must pay $65.56.
Overnight Packages
FedEx offers overnight services where you can choose whether the packages are delivered in the morning or later in the afternoon.
The rates for this delivery service are based on the parcel's weight. Here are the service's prices:
For packages that weigh 1lb: $86.49 to $127.87
For packages that weigh 5lbs: $107.31 to $147.42
For packages that weigh10lbs: $147.69 to $183.49
For packages that weigh 50lbs: $140.55 to $451.72
Understanding Extra Services
There are extra services you can get when using FedEx overnight shipping. These services are value-added, which can affect the total price you are to pay.
No signature required service: When the package arrives, and no one can receive it, the parcel will be sent to a safe place without needing a signature. You can request this service for free.
Indirect signature required: By requesting this service, anyone near the vicinity of the recipient's place can sign and accept the package. If there is no one to sign, the parcel will be delivered at a later time or date.
This service is available for residential shipments to anywhere in the United States and to Canada with a declared value of below $500.
Direct signature required: When you need the recipient's signature, you can place this option by paying $5.00 extra for each package.
Adult signature required: When you need an adult to receive the package, you can use this option. The recipient must prove they are of legal age to accept the parcel. The cost for this added service is $6.05 per package.
Declared value coverage: You can have your package covered up to $100 for losses or damages with no extra cost. You can also buy extended coverage.
Residential surcharge: This additional service charges $3.85 for all home deliveries.
Saturday delivery: This is another service that FedEx provides upon request without any added cost.
Calculate Your Overnight Shipping Costs
The following factors determine the overnight shipping cost and delivery service for a package delivered the next day through FedEx.
Next-day delivery time: Prices differ depending on when the recipient gets the package. If the receiver gets the package earlier in the day, it costs more compared to packages delivered later.
Distance to the destination: The United States is divided into zones. These zones represent how far is a recipient's address from the original address.
Package weight, size, and density: The heavier and bigger your package, the more it will cost.
Is FedEx Overnight Shipping Expensive?
Compared to UPS, FedEx overnight shipping is cheaper. FedEx has long prided itself on its overnight deliveries, and it shows through its way of handling items and how they handle its customers.
Which Is the Cheapest FedEx Overnight Shipping Service?
If you look at all the overnight shipping services provided by FedEx, the FedEx Standard Overnight is this company's cheapest overnight shipping service.
You can learn more about the FedEx Standard Overnight through this article.
What Is FedEx Overnight Shipping?
The FedEx Overnight Shipping service allows customers to send packages to any destination in the United States the following day. This service is a fast, convenient way of getting items from one point to another in as little time as possible.
How Does Overnight Shipping Work?
Overnight shipping works the same way with almost all giant shipping companies and delivery service providers in the United States. Overnight shipping needs three requirements to function correctly:
The package must meet the requirements for overnight shipping. Each shipping company, including FedEx, has packaging requirements that must be met before they can process the delivery.
The shipping company must have room in their cargo. Packages differ in weight, size, and dimensions. These packages can also quickly fill up a small cargo bay. Giant companies have adequate storage holds for packages that need to be delivered overnight.
The shipping company must have a transportation network. Overnight shipping will only work if a good transportation network is already set in place.
FedEx has a vast transport fleet, making them one of the go-to delivery services for fast, overnight shipping.
3 Benefits of Using FedEx Overnight Shipping Services
FedEx offers three benefits to customers opting to use their overnight shipping services for their package deliveries:
Marketing: Overnight shipping means customers receive their orders quickly. If you have a business, you can compete with other small businesses by delivering the items your customers need.
Convenience: Overnight shipping provides a convenient service when you need to deliver essential items or special orders.
Customer loyalty: If you run a business, overnight shipping can help gain your customers' trust. Your clients can rely on your ability to deliver their orders by the next day.
Sending Multiple Overnight Shipments
FedEx offers multiweight pricing for customers shipping multiple packages to a single recipient. You can add multiweight pricing to your account, automatically calculating the best deal for you when shipping more than one package to one destination.
Here are the benefits of using multiweight pricing:
There is no particular configuration: You just activate multiweight pricing on your account, and your packages are good to go.
Automatic: There is nothing else to do once activated. This service has a rating logic that automatically applies to multiple shipments and calculates the best deals.
No special packaging preparation request: Prepare each package generally, as there are no mandatory packaging regulations for multiweight pricing
Tracking numbers for all the packages: If you ship all your packages simultaneously, your combined shipment will get a master tracking number.
Choose the Best FedEx Overnight Shipping Option for Your Online Business
Overnight shipping helps eCommerce businesses reach their customers faster by providing speedy delivery services. FedEx ensures that your clients will receive their orders the following day.
There are many delivery options to choose from that can fit your business model. The following sections will give you insight into these options and help you choose the best for your company.
What Are the Differences Among the FedEx Overnight Shipping Services?
FedEx offers three overnight shipping services for their customers. Each service has different features, costs, and benefits. Small businesses can benefit from these services, especially those without a massive fleet of delivery vehicles.
FedEx First Overnight
This FedEx overnight service is a fast, reliable way for sending packages to an intended recipient as early as 8:00 AM the following day. For remote and rural areas, you can expect your deliveries to arrive around 2:00 PM on that same day.
The First Overnight delivery is fast and convenient, but it costs more. Business owners and merchants should factor in the added cost when using this service for their online businesses.
The starting cost for the FedEx First Overnight service is $60.71 for a two-pound package. Remember that this service's shipping rates depend on the package's weight and the recipient's location.
FedEx Priority Overnight
The FedEx Priority Overnight service provides the same next-day delivery to all 50 states. You can expect packages to arrive the next business day by 10:30 AM if delivered through this service.
Like FedEx First Overnight, rural and remote destinations make cause deliveries to arrive by 12:00 PM, 4:30 PM, or 5:00 PM at the latest.
Saturday delivery option is also available, and packages arrive by 12:00 PM, 1:30 PM, or 4:30 PM. Saturday pickup services are available for an additional charge.
The FedEx Priority Overnight service starts at $30.71 for a two-pound package. Similar to other overnight shipping services, the price will adjust depending on the weight and location of the recipient.
FedEx Standard Overnight
The FedEx Standard Overnight guarantees a next-day delivery at around 3:00 PM, 4:30 PM for rural locations, and 8:00 PM for residential addresses.
Delivery services are available from Monday through Friday. Pickup services are available on Saturdays with additional charges.
FedEx Standard Overnight service costs $29.82 for a two-pound package. Rates adjust depending on package weight and recipient location.
What Is the Difference Between FedEx Standard Overnight vs. FedEx Priority Overnight?
Overnight shipping services offered by FedEx offer businesses fast and reliable delivery options. The difference between FedEx Standard Overnight and FedEx Priority Overnight is their delivery times.
FedEx Priority delivers their shipment by 10:30 AM, while FedEx Standard delivers packages by 3:00 PM. So, your situation, customer transactions, and necessity determine your chosen service.
Delivery times to states like Alaska and Hawaii may differ compared to addresses on the mainland.
Both services also have the same weight restriction of 150 lbs and size requirements of 119 inches in length and 165 inches in width or girth.
What Is the Cut-Off Time for FedEx Overnight Services?
The cut-off time for overnight services depends on how close the drop-off location is to the shipping airport.
You can also check your local FedEx stations for the delivery cut-off period. But as a general tip, drop your packages by 5:00 PM at your nearest FedEx station for overnight delivery.
How Long Does Overnight Shipping Take?
Overnight shipping can take 12 to 24 hours from when the package was delivered to a shipping station to its intended destination.
However, there are instances where it takes longer due to different reasons like weather conditions or the number of packages that need to be delivered.
Though delays are rare, customers are guaranteed that it will take between one to two days for a package to arrive at its destination.
What Is the Fastest Overnight Shipping Option?
According to the overnight shipping services provided by FedEx, the fastest overnight option is the FedEx First Overnight shipping option.
The recipient can expect to receive their packages as early as 8:00 AM the next day after it has been shipped.
Moving Forward With Greater Efficiency
With the growing demand for delivery services, FedEx and other shipping companies are moving towards greater efficiency.
Surveys and statistics show that around 95% of Americans shop online at some point in the year.
The challenge for shipping companies today is to work with the growing number of retailers and small businesses that heavily rely on their efficiency.
Larger companies like Amazon have their delivery service, which allows them not to rely heavily on other delivery services.
But for new entrepreneurs, their businesses rely on how well the shipping network delivers customer orders. Hopefully, as the years continue, shipping companies will grow and expand to meet the demands for speedy, efficient, and reliable deliveries.
There Are No Overnight Success Stories Except for Shipping
Every online business success story is an efficient and effective shipping service that they depend on to deliver their products to expecting customers.
Small businesses may have difficulty keeping up with their clients if there are no efficient delivery companies ready to ship packages from one point in the country to anywhere in the world.
Exploring the Various Special Delivery Options in Detail
As a business owner, you should explore the different shipping services available. You should also determine the best delivery company that caters to you and your customer's needs.
FedEx has a vast network that provides fast and reliable shipping alongside the help of the postal service in delivering packages throughout the United States.
FedEx Ground is one of the services this company provides, which works hand-in-hand with the U.S. postal service in delivering packages and mail to people nationwide.
Need Your Freight Shipments and Packages Over 150lbs Delivered the Next Day?
For packages weighing over 150lbs, FedEx Overnight Freight is the choice if you want your package to arrive the next day.
This delivery service is available from Monday to Friday. Saturday pickups are available but at an extra cost.
What Are the Special Delivery Options, and How do you Use Them?
FedEx provides unique delivery options that you can use to fit your shipping service needs better. You can use the following options depending on your needs:
Saturday Pickup Option
Usually, FedEx deliveries are done Monday through Friday. But FedEx's overnight delivery services also include Saturday pickup services, which are then delivered by the next business day, Monday.
Saturday Delivery Option
Due to customer demands for weekend deliveries, shipping companies now deliver on Saturdays. You can opt for this service using the FedEx First Overnight and FedEx Priority Overnight services.
Dangerous Goods Shipping
Shipping dangerous goods is never an easy thing. Items like chemicals, which can be hazardous, may need special permits and authorized shipping services for deliveries.
FedEx offers dangerous goods shipping that caters primarily to businesses dealing with these materials. But dangerous goods shipping has its limits, which include Class 7 radioactive materials.
FedEx Collect on Delivery (C.O.D.)
Small businesses may use the FedEx Collect on Delivery service (COD) to expand the payment methods available for their customers. You can choose the type of payment used in COD deliveries.
Official check or certified check
FedEx Delivery Signature Options
You can request for FedEx Delivery Signature Option that will require signatures upon delivery.
The shipment may be void or returned to the sender if the recipient does not sign the final document. FedEx allows three signature options:
Indirect signature requirement
Direct signature requirement
Adult signature requirement (for U.S. and Canada)
Signature options are available for residential deliveries only.
Hold at Location
There are instances where deliveries cannot be completed because the intended recipient is away.
Senders can use a hold-at-location service, which allows packages to be placed in a temporary holding location if they are not received because the recipient is unavailable. It will be delivered later if the recipient claims it from this location.
Return Solutions
There are instances when you need to return certain parcels. FedEx Overnight services let you create and print return shipping labels for your packages.
You can use the FedEx Ship Manager to print shipping labels and place them in your package box.
Tracking Your Overnight Shipment
Using your tracking number and the tracking services provided by FedEx, you can check on the status of your shipment throughout the delivery phase. The recipient can also follow their package's delivery.
Packaging for Overnight Shipments
You can use your own boxes to pack your items or use the packaging and mailing services that FedEx offers.
The company has the supplies, envelopes, and other packaging needed for clients. Note that a flat-rate envelope costs $10.80.
Free FedEx Express Packaging
If you want to know more about free packaging for FedEx Express, you can head to your local FedEx office and get information about free packaging.
FAQs
How do I print shipping labels for FedEx overnight services?
You can print shipping labels at your home. You just need a good printer that can create these labels.
Which is cheaper: FedEx or UPS overnight?
FedEx Overnight shipping is cheaper compared to the same service provided by UPS. FedEx's competitive pricing is because of its already extensive network of transportation.
Does it cost more to ship liquids?
No, you do not need the pay an extra cost when shipping liquids. But the liquids you are shipping must adhere to regulations.
Is FedEx overnight shipping expensive?
Compared to other services, FedEx offers affordable, ready, and reliable services.
Can I overnight a letter?
Yes, you can send a letter through overnight services. But in areas like Alaska and Hawaii, you may experience a delay in receiving your package due to inclement weather and delivery volume.
Can I overnight a package on the weekend?
Yes, you can. You can use flat-rate shipping services when you drop your packages on time.
Is FedEx's one-day, overnight, and same-day shipping the same thing?
Yes, one-day shipping and overnight shipping are the same. These services aim to deliver packages to recipients in just one day. International shipping does not offer next-day shipping.
What does "guaranteed" really mean?
The word "guaranteed" means that the company will do whatever is necessary to deliver your packages on time.
But, just like any other plan, it does not guarantee that every item will be delivered successfully.
For instance, if you are to ship something to New York, FedEx will ensure that your package will reach its destination, which is guaranteed. But it does not mean that you will consistently receive your products all the time without any hassle.