USPS Wedding Stamps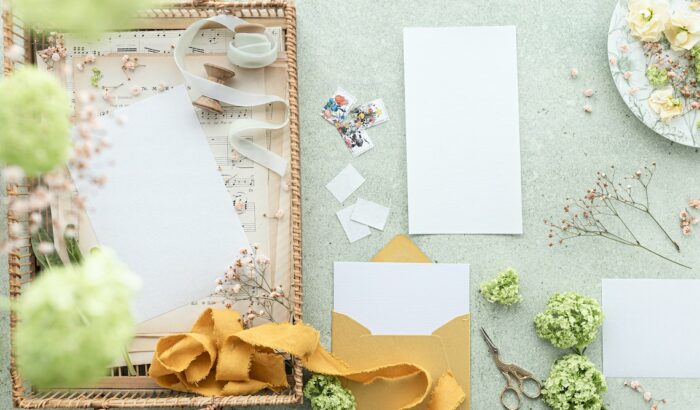 Are you planning your wedding and wondering about the best way to send invites to your guests? If you're in this situation, then this article is for you. Wedding invites with wedding stamps are a memorable way to invite people to witness your matrimony.
You may have heard about wedding stamps and wondered how you can use them for events like weddings, where you can buy them, and how much they cost.
This article will answer your questions through a comprehensive guide about wedding stamps and their uses.
Also, you'll get ideas on how these stamps are used, especially in sending invites for events like a wedding. The write-up will also cover where you can purchase them.
Finally, you'll get information about costs and other details relevant to these stamps.
A wedding invite is a more complex mail. There's an art to it, and couples often want to add their personal touch. USPS can provide wedding stamps to lovely couples eager to share their love and a special announcement with friends and family.
If you're planning to send invites to loved ones, get the help you need about post office requirements by visiting FindPostOffice.org. 
Get in touch with any of the 31,330 post offices in the country to help ensure that your invites get to your loved ones on time.
What to Know About Wedding Postage
Weddings are social events that have shaped many modern societies. The union of two loving people in a binding agreement of continued love and support has such an impact that a happy family becomes the cornerstone of a healthy society.
A crucial part of a wedding celebration is inviting guests to your big day. USPS (United States Postal Service) has released wedding postage to celebrate weddings and the joy they bring. 
Wedding Stamps
Over the years, the United States Postal Service has released wedding-themed stamps for wedding invites. These releases include wedding-themed regular stamps and Forever stamps. 
These stamps are worth the same as regular stamps but have lovely designs specifically for weddings.
Using Vintage Stamps
USPS provides various themes for different artistic tastes. For those who are into vintage and retro styles, you can pick vintage postage for your invitation cards. These stamps have colorful designs that give a nostalgic feel.
The drawback of these kinds of stamps is the price. Vintage stamps can start from $8 and go up to $16 or $20.
What Are Forever Wedding Stamps?
Forever stamps are postage sold by USPS and used when sending a 1oz First-Class Mail letter anywhere in the United States. These stamps don't lose value even years after their purchase. 
USPS releases themed versions of these stamps to fit occasions like weddings. You can buy a Forever wedding stamp online at USPS.com or through any third-party postage seller approved by the Postal Service.
How Much Do Wedding Postage Stamps Cost?
Organizing a wedding celebration is a big deal. You'll need to consider many factors, mainly how many guests to invite. The number of guests dictates how many wedding invitations you'll need to send. So you have to calculate the cost.
The following information provides an idea about wedding postage stamp rates.
USPS Wedding Stamps and Rates
USPS announced a price increase for some delivery services starting January 22, 2023. Affected services include Forever wedding stamps. Before the price hike, a Forever stamp costs $0.60. Now it costs $0.63.
Forever postage stamps don't lose value and can cover 1oz Certified Mail even if price rates increase or decrease in the future. You can buy these stamps at the USPS.com store and choose the "love/wedding" category. You can also buy postage stamps from third-party sellers.
USPS Postage Rates
The postage rates increased by January 22, affecting most USPS mail services. However, postage rates can also change depending on your wedding invitation's weight, size, and shape.
USPS Wedding-Themed Stamps
USPS releases stamps with different designs that fit a theme or genre. You can choose different wedding-themed stamps on the USPS website.
Custom Postage Stamps
In 2020, USPS discontinued its custom postage stamps program. Third-party companies like Minted that previously offered custom stamps have shifted to selling customized stationery and envelopes instead. USPS sells wedding-themed designs for its stamps.
Odd-Size or Nonmachineable Surcharge
Nonmachineable letters are sizes that USPS machines can't process. The Postal Service has relied on different automated systems that letters need to be in a particular shape (rectangular).
A nonmachineable surcharge is added to mail items that meet any of the following criteria:
Pieces more than 4 1/4 inches high or 6 inches long
Pieces are poly-wrapped, poly-bagged, or enclosed in any plastic or an exterior not made of paper
The length of the piece divided by its height is less than 1.3 or more than 2.5 inches
Pieces have buttons, clasps, strings, or other closure devices
Pieces are too rigid (not bendable) or contain rigid items like pens, coins, and keys that can increase the thickness of your letter or invitation
The delivery address is parallel to the shorter side of the letter or invitation
You can use USPS.com's online calculator to know if your letter or invitation is nonmachinable. If that's the case, you'll pay the corresponding surcharge rates.
How Many Stamps Are Required for a Wedding Invitation?
The number of required stamps for a wedding invite depends on the postage cost, which is determined by the size, weight, shape, and destination.
You can use one Forever stamp when you send a wedding invitation that's less than one ounce. You can also choose other stamps with smaller denominations, like $0.05 and $0.10.
You can mix different stamps of different denominations to cover the entire postage cost.
For wedding stationery weighing up to three ounces, you can also purchase USPS stamps. Visit your local post office when unsure of how many stamps you'll need for your letter. 
How to Determine Required Postage
A 60-cent stamp is enough to send a letter that weighs one ounce or below. A one-ounce letter is closely equivalent to four sheets of 8.5 x 11-inch paper. The letter must be sealed inside a 5 x 3.5-inch rectangular envelope that can't be thicker than 0.25 inches when sealed. Note that the envelope must not be longer than 11.5 x 6.125 inches. 
You should have an actual invitation to determine the amount of postage needed. Ask your local post office to help you if needed. Wedding invitations tend to have designs that may alter the postage requirements of USPS.
How to Elevate Invitations With Stamps
Designing your invites with the help of a handy wedding invitation suite is fun. You can be creative in the design, but you can also elevate the aesthetics of your invites by using stamps. Here are tips on using stamps on your invitations to make a lasting impression on your guests.
Stick to a Single Color Palette
Simplicity is already a design in itself. Using a single color palette or single hue for your invitation ensures that the stamps you attach stand out. You can combine commemorative stamps with stamps that feature calligraphy to make your invites unique.
Lay Stamps Across the Envelope Top
You can also explore stamp placement to improve your invitation's design. For example, you need to place four stamps on your invitation. In that case, it's better to lay them across the top of your envelope instead of bundled in one corner. This stamp configuration makes it easier for USPS to process your mail. 
Go Shortest to Tallest
Mixing and matching stamps is acceptable only if their sum is equivalent to the total postage cost. You can mix new stamps with vintage ones and stamps of varying colors, designs, themes, and genres. When using multiple stamps, arrange them from shortest to tallest to show your guest an intentional design.
Stack Horizontal Stamps
You can stack your stamps horizontally and in pairs of two. This practice keeps your stamp line at the same size and conveniently matches the height of vertical stamps. Remember: you can use any kind of stamp placement on your envelope as long as the total amount of all the stamps is equal to the postage fee.
Wedding Postage Update
USPS' most recent price hike was scheduled on January 22, 2023. The increase is due to the company's rising operational costs and adherence to the plan to make USPS a self-sustaining business.
This price increase affects how you'll send your wedding invitations. So, it's best to always get your latest information straight from USPS and the Postal Regulatory Commission or PRC.
Save the Dates
You'll need to pay more to send primary mail or packages through USPS starting January 23, 2023. For reference, here's a list of the new USPS postage rates. 
Note: These rates are effective starting January 22, 2023.
Letters (metered 1oz): $0.60
Domestic Postcards: $0.48
International Postcards $1.45
International Letter (1oz): $1.45
Invitations
Bring a sample of your wedding invitation to your local post office to determine the amount of postage you'll pay. Weddings naturally have many guests, and the postage cost for a single invitation is the basis for the entire budget for inviting guests.
Always ensure the correct weight of your package. If you have doubts, you can have your invites checked at your post office. It's also possible that your invitation is nonmachinable, adding surcharges that can dramatically increase your costs.
So, before you start mass-producing your invitations, determine the cost of your design first.
RSVP Cards
The abbreviation RSVP comes from the initials of the French phrase "respondez, si'l vou plait," which translates to "please respond". When sending RSVP cards, you should have tucked your wedding invitation inside an envelope. It makes it easier for your guest to respond.
You can also give guests other ways to respond. Sending their replies through the mail may take too much time. For this reason, some opt to instruct their guests to respond via the couple's wedding website or a social media page. For less techy people, a traditional response may be the only way to get their replies.
If you want written responses from your guests, you can use RSVP postcards instead. Remember that you'll need to pay the standard postcard charge if you want to use RSVP postcards to get your guests' written replies.
Stamp Designs
There are many stamp designs you can choose from, especially those sold by USPS. Aside from using RSVP postcards, where you can put a photo of your wedding area, you can mix and match stamps that will fit your wedding motif or theme.
You can always purchase Forever wedding stamps or any love stamps sold at the USPS store. There are many stamps to choose from, including stamps with smaller denominations. You only need to ensure that all the stamps you attach correspond to the postage amount.
What to Know About Hand-Canceling
Once your wedding invitation is ready for mailing, it'll go through a process called "canceling." This process is essential to the mailing procedure, where black lines and other symbols are placed over postage stamps to prevent others from reusing them.
The canceling process is usually automated, and it can damage or ruin the aesthetics of your invitations. It can also pose a problem for bulkier envelopes as the process can damage your invites.
As such, couples can request a manual stamping of these lines on an envelope. This manual process is called "hand-canceling". You can do it yourself or have a post office employee do it for you.
Once you request hand-canceling, post office employees use a rubber stamp to mark your envelopes manually. Details of the stamp include the city such as Chicago, San Francisco, Charlotte, Indianapolis, and Dallas and the state of origin like California, Texas, Pennsylvania, Ohio, and Michigan. Hand-canceling is appealing for some as it can give your mail a classic look. 
You remember that hand-canceling has additional costs. It also requires time and effort and may cause delays, especially if you have many people you wish to invite.
How to Save Money on Postage
When your wedding invitation goes over a certain thickness and weight, it'll be considered a package. Once your mail is bumped up to parcel category, its cost will be different. USPS considers mail that's over 3/4 inches thick a parcel.
Here are some valuable tips to avoid getting your wedding invitation bumped into package rates:
Use single-ply paper for your wedding invites
Avoid adding knotted ribbons
Include everything in the invitation itself (this practice lessens the need for other inserts, reducing the thickness of your mail)
Should Stamps Be Included With RSVP Cards?
Having your RSVP cards pre-stamped with an addressed envelope is considered proper etiquette. 
You can also make it easier for your guests to send their replies through other means. An example is a wedding website or social media page where they can send their response.
Top Tips for Choosing Your Wedding Stamps
Here are some tips coming from wedding planners and organizers when choosing stamps for your invite:
Choose a theme for your wedding and look for wedding stamps that fit the theme.
Choose stamps that feature your place. It may be your state, city, or a particular landmark in your area.
Choose stamp designs that relate to your wedding event, theme, or location (for example, a stamp with a palm tree can signify a beach wedding in Hawaii).
Choose stamps that show either the couple's or the family's shared interests.
Choose stamps that represent love, union, and marriage.
Our Favorite USPS Wedding Stamps
Favorites are highly subjective. It's best to visit the USPS.com store and find all the stamp designs you might like.
Where Else to Purchase Stamps
Here are other websites you can shop wedding stamps from for your big day:
Amazon
Buy retired stamps at Amazon. Don't buy stamps at Amazon that are still available at USPS, as they'll be marked up and cost more.
Etsy
When you need stamps of a particular color or theme or other hard-to-find designs, Etsy is one of the places you can visit. You can also find retailers there selling stamps that might be interesting for you.
eBay
If you're into stamps and know the Scott number of a particular design you want, you can head to eBay. This online selling giant has a page devoted to stamps.
Edelweiss Post
A Minnessota-based dealer, Edelweiss Post allows you to find vintage and customized stamps for sale.
FAQs
Do post offices carry wedding stamps?
Yes, post offices sell wedding-themed stamps. To find the nearest post office in your area, you can visit FindPostOffice.org and get the necessary information about your local post office. 
What stamps should you use for wedding invitations?
You can use any kind of stamp as long as it covers the postage rate for your mail. However, carefully curated wedding-themed stamps make the invites more personal. Such stamps allow you to customize your invitation and make it memorable for you and your guests.