Addressing an Envelope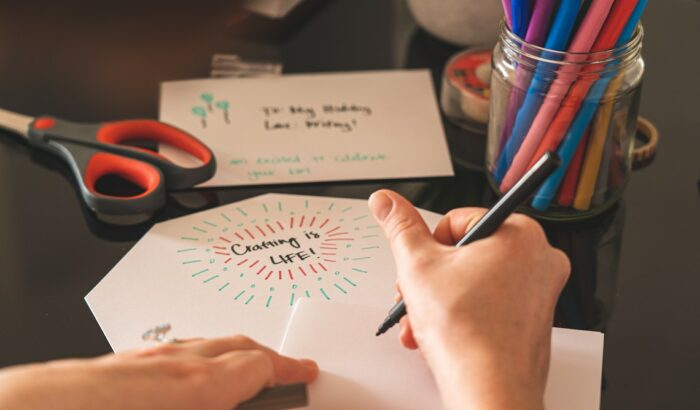 Writing a letter to someone proves that the concept of correspondence is still much alive today. Millions of letters pass through the postal service daily, and letter-writing has no signs of waning down, even with the popularity of the internet and email.
There are many reasons why many still love to send letters instead of direct messages on social media or email. Physical letters have a personal touch that makes them extra valuable.
If you are among the people who will be sending mail or packages through delivery services in the United States, this article is for you.
One problem that people today may ask is how to write a recipient's address in an envelope correctly. Unlike email, which requires the recipient's email address only, with mail correspondence, the target destination of your letter is not a single string of characters.
So are there any tips or helpful guidelines you can refer to for the correct address format?
This article is an informative guide on properly writing a recipient's name and address. This write-up also provides other information about the correct format for people's names, addresses, details the delivery service needs, and other information you should know, like when the USPS will be shipping your package.
Once you have learned the correct address format for your next package, you can correctly send your mailpiece to the intended destination. The United States Postal Service (USPS) is one of the leading companies in the U.S. that offers shipment services.
You can check out FindPostOffice.org to get a list of USPS offices near you. We can provide information and help pinpoint the location of all 31,330 post offices in the United States. Find the post office nearest you using our website.
How to Address an Envelope Properly
Before email exchanges and text messaging, people living apart talk to each other through mail or correspondence. The post office, though built as an old-fashioned method of communication, is still very much part of society today. In the United States alone, there are more than 31,000 post offices, all actively delivering thousands, if not millions, of packages daily.
As such, learning to address your letter correctly is crucial to ensure that your mail or package reaches its destination quickly. This article is a refresher that aims to teach and remind you how to format addresses correctly for your next mail.
5 Ways to Address an Envelope
There are five ways to write an address on an envelope, with each method evoking different responses from recipients.  
Method One: Handwritten
One way to write an address on a letter is by hand. Writing the recipient's address by hand makes it more personal.
An envelope with your name and address written by someone you care about stands out from all other letters and has the probability of getting opened first. If you are writing customer addresses by hand, you are building a brand people will easily connect with.
Method Two: Direct Printing
You can print the address on the envelope directly for convenience, especially if you are mailing multiple letters. You can see these types of printed envelopes in businesses. Use printers to customize your design and build your brand.
Method Three: Addressing Envelopes Using Labels
Another way to make envelope addressing easier is by using labels. Shipping companies usually favor labels as you can print the recipient's address on stickers and attach them to the package. A mailing label is also convenient for placing return addresses and additional package information. 
Method Four: Get Creative With Mail Art
You can also get creative and make DIY mail art for your recipient. It would be a good idea for wedding invitations, birthday parties, anniversaries, and social gatherings.
Method Five: Hire a Professional Calligrapher
You can hire a calligraphy artist to write beautiful fonts on your envelope. The elegance of perfect handwriting can impress many people. A calligrapher's artistic style and technique are enough to make an envelope something to adore.
A recipient getting a letter with elegant handwriting on the envelope will immediately assume that its content is essential and worth reading.
How to Address an Envelope: The Basics
Writing addresses on envelopes is not that complicated. But, there is a pattern that you should follow. Here are the basics when writing down this essential part of a letter: 
Tips and Etiquette
In writing the address part in front of the envelope, there are tips and etiquette that you should keep in mind. How you write addresses, the name of who you are writing to, and their address reveal many things.
How you address your recipient may show the level of your relationship with each other and how formal or informal the letter's contents will be. Also, correctly written addresses will help logistics and mailing companies deliver the letter quickly.
So, read on and consider these tips and etiquette listed below:
Using Abbreviations
When sending a formal letter, it is best to use the recipient's full name. You should write the full first name, not the nickname, the middle name if you know it, and the last name.
Also, you should not use any abbreviations in names and street addresses. When sending an informal letter, you can use informal names like nicknames. Also, abbreviations are acceptable.
Using the Right Titles
Writing the correct titles for people takes time and effort. When deciding what title to use when addressing an individual in an invitation or through correspondence, there are many things to consider. This article will guide you in choosing the right title for a person and how you will write it down on paper.
Using Professional Titles
In most cases, you can include the titles to address doctors, judges, clergy members, and military officers in formal or informal correspondence.
For couples, the one listed first is the one who has the higher rank.
An example is "The Honorable Joan Jones and Mr. Francis Jones."
In cases where a couple has similar titles and shares the last name, the titles can be plural.
An example would be "The Doctors Jones or Drs. Joan and Francis Jones."
If both have different last names and different titles, you can write their names in full, along with their relevant title. You can join the two names with "and".
An example would be "The Reverend Francis Jones and Dr. Joan Smith."
How to Write the Recipient's Address
You should write the recipient's name and address at the center of the envelope. You write the recipient's full name at the top line, the street address at the second line, and the rest of the address at the third line. You can write the state abbreviated or in full.
Tip
When writing the recipient's name, you can add the title to the recipient's full name. Though it's not a hard requirement, it still shows respect. Usual titles are Mr., Ms., Miss, or Dr. When inviting a doctor to an event, it's proper to spell out doctor instead of using the abbreviated form.
Sample Address
Here is an example of a correctly formatted address:
Mr. John Smith
452 NW Gold Street
Apt. 4N
Seattle, WA 98126
Addressing a Business Letter
For business letters to a person or company, you need to maintain professional etiquette, so it's best to adhere to the following ways of addressing a business letter:
Add the recipient's position when writing the recipient's full name
Add the company's name and the company's street address as the recipient's address
Tip
When unsure of the recipient's full name, you can write the recipient's title in place of their full name on the first line of the address. But it's always best to get all the necessary information when writing a letter.
Sample Address
Here are two examples of correctly written addresses for a business letter.:
Jane Crimson, Marketing Director
James & Co.
800 Flowers Avenue
9th Floor
Los Angeles, CA 90021
or
Attn: Marketing Director
James & Co.
800 Flowers Avenue
9th Floor
Los Angeles, CA 90021
Addressing Mail to Overseas Military Installations
For sending letters to military personnel stationed abroad, you can follow the general pattern used for business letters, along with a few additions:
Include the recipient's rank when writing the full name
Add the unit or squad number on the second line of the address format
Add the designation where the recipient is stationed, like in the APO (Air or Army Post Office), DPO (Diplomatic Post Office), or FPO (Fleet Post Office)
Add the name or abbreviation of the country where the recipient is located in capital letters, like AE (Armed Forces Europe), AA (Armed Forces America), or AP (Armed Forces Pacific)
You can also include the zip code of the area
Sample Address
Here is an example of a military personnel's address:
SGT Mark Mendoza
Unit 332 Box 11
APO AA 92136
Mailing to Other Countries
When writing to other countries, the address format is the same as typical business letter formats. You only need to add "U.S.A." to your return address. All international mail requires a full name and address for your return address information.
Sample Address
Here is a sample address of a recipient living in another country:
Ofelia Mendez
Carrer de la Pau 14
46001 Valencia (Alicante)
SPAIN 
Addressing Mail to P.O. Boxes
When placing a P.O. box address, here are the general rules you should follow:
Place your return address in the upper left corner of the envelope.
Place the recipient's complete address in the center of the envelope, starting with the full name on the first line.
Add the name of the recipient's company or organization. If there's a department, add it before the company name on the following line.
Write the P.O. box number.
Add the city, state, and zip code to the address information's last line.
Place your stamp in the upper right-hand corner of the envelope.
Note: Refrain from using punctuations to avoid problems with the USPS, as the agency does not like to scan excess markings.
Sample Address
Here are some examples of address information for a letter mailed to a P.O. box:
Ofelia Mercer, Director of Marketing
James & Co.
Billing Department
P.O. Box 12445
Los Angeles, CA 90021
or
James & Co.
P.O. Box 12445
Los Angeles, CA 90021
Tip
Federal taxes: When mailing taxes to the Internal Revenue Service (IRS), you should visit their website. P.O. box addresses may change depending on the state you live.
State taxes: Every state has a unique tax agency address. You do not send your federal and state tax returns to the IRS. State taxes should go to the state's tax department.
How to Write the Sender's Return Address
A return address is crucial for USPS as it tells the post office where to return the letter if it is undeliverable. You must write down the sender's address correctly to avoid delays. When writing a return address, here are three things to include:
Your full name. You always start your return address information with your full name.
Your street address. You can use two separate lines if your stress address is considerably long.
The last line includes your city, state, and ZIP code.
How to Find the "Zip+4" Code
You can look up the extra four-number code in your ZIP code on the USPS website. You only need to look up the ZIP code by address, type in all the needed information, press "find," and wait for the results to appear.
Addressing an Envelope for 8 Different Cases and Occasions
Addressing Women
When addressing women under 18, you should use "Miss."
When addressing single or married women over 18 years who still use their maiden name, you should use "Ms."
When addressing divorced or separated women, to be safe, you can use "Ms." but use the woman's maiden name.
When addressing widowed women, it is traditional that you use "Mrs." and use her late husband's name.
When addressing a married woman, it is traditional to use "Mrs." followed by either her husband's or her actual name.
Addressing Wedding Invitations
Wedding invitations can be a hassle, especially if you want to be safe in addressing the intended recipient on their invitation cards. Simple guidelines are the following:
Use full names instead of a nickname
Avoid abbreviations, including middle names and street names
Addressing a Married Couple
Addressing a married couple depends on the correspondence type. For formal letters and invitations, you can include titles and their full names. You can use their names only for informal letters like holiday cards or Christmas cards.
How Do You Address an Envelope to Mr. and Mrs?
You can use Mr. and Mrs., then both their full names. It can be used for formal letters. An example is the following:
Mr. and Mrs. Harold Green
or
Harold and Christy Green
Addressing an Unmarried Couple With the Same Address
When you are unsure, go with the formal style. You can use the first and last names of the unmarried couple for personal letters and greetings. You can also choose whether to add their titles or not.
Addressing a Family
When you invite all family members, including children, you can add their first names on the next line below their parents. Here is an example of that kind of invitation:
Mr. and Mrs. Francis Smith
Monica, Emily, and Jerome
Addressing a Nonbinary Person or Couple
When you address a nonbinary person or couple for formal occasions, you can use the pronouns "they" and "them" and use the title "Mx."
For nonbinary couples, you can write their names alphabetically. It gives them a sense of equality without being gender-centric. Use "Mx" for those who use "they" or "them" pronouns.
An example of this format is the following:
Mx. Alex Jones
or
Mx. Alex Jones and Mr. Avery Morris
Addressing a Same-Sex Couple
You can write their names when addressing a same-sex couple in personal letters. But, on formal occasions, it is best to follow these rules:
If married, write both their names and titles on the first line connecting both names with "and."
Mrs. Claire Peters and Mrs. Odessa Jones
If unmarried, write their full names on separate lines.
Miss Claire Peters
Miss Odessa Jones
Who Goes First When Addressing an Envelope?
Traditionally, the one who goes first is the husband in married couples or the male partner in unmarried couples. Also, you should first mention the person with the higher title. But, these traditions are slowly being updated, especially when addressing same-sex and nonbinary couples.
Should You Put Mr. or Mrs. on an Envelope?
When we base the answer on tradition when addressing married couples in a formal letter, you should add Mr. or Mrs. on the envelope. There are other rules regarding using those titles, which are discussed in this article.
What Size Envelope to Use
The size of the envelope should depend on the intended purpose. The content should fit inside an envelope snugly. An example of size is a 5 x 7-inch letter envelope that is good for invitations and announcements.  
Also, when choosing envelope sizes, you should know that additional postage fees depend on the size of your mail or package.
How Many Stamps Should You Use?
Placing a stamp is easy, but picking the stamp to use is usually what's difficult. There are different kinds of envelopes, different kinds of packages, and different kinds of stamps to use when sending letters through USPS. 
You can use Forever stamps, which allow a standard 1oz letter to be shipped anywhere in the United States. 
If your envelope is more than one ounce, you will have to pay 15 cents for every ounce over. For every additional ounce, you will use an additional ounce stamp to cover the extra ounces.
When you are sending postcards, it has postage, which is cheaper, so there is no need to use Forever stamps.
Make Sure the Envelope Goes With the Occasion
Always make sure that the envelopes you use go with the occasion. Knowing how to fill out the required addresses on the envelope is crucial. Remember the tips and etiquette tackled in this article to avoid making mistakes.
How to Mail a Card
When you mail a card, you will need a stamp. When you need a stamp, you need to know a few things:
Where are you sending your card?
What is the shape and size of your envelope?
When do you want your mail delivered?
A standard-size envelope can be covered in the United States by a Forever stamp. Your mail will get delivered in one to three business days.
Non-standard size envelopes cost more, especially those delivered outside the country.
You can also use next-day delivery services provided by USPS, which allow you to have your letters sent quickly to anyone in the U.S. The U.S. Postal Service is your best information source for postage and stamps.
How to Find a Mailing Address
Lastly, for you to find the mailing address, you can do the following:
Check map apps on your phone if you have already visited their place
Ask a relative, friend, or acquaintance
Search for their first and last names in a city or state address database
Also, if you need to find the nearest post office to send your letters, check out FindPostOffice.org to get a list of USPS offices in New York, California, Illinois, Pennsylvania, Florida, and other states.