UPS Shipping Label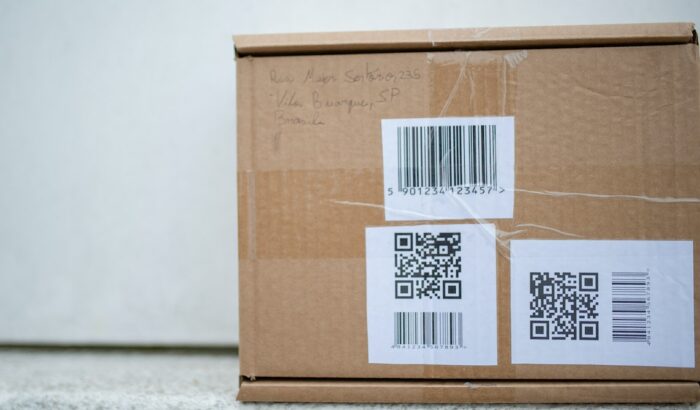 UPS (United Parcel Service) touts itself as a premier package delivery company that serves 1.6 million shipping clients and delivers daily to 11.1 million delivery customers.
Creating shipping labels is part of the company's services that help ensure efficient delivery.
How do you create and print UPS shipping labels? How long are UPS shipping labels good for, and can you get them for free?
This article explains how to create and print shipping labels for UPS packages. This article also discusses how long you can use UPS shipping labels and whether you can get these labels for free.
Shipping labels are essential for any carrier as they provide information about a package, like an item's weight, names, addresses, and tracking barcodes. These pieces of information help the courier deliver the package to the correct recipient and in good condition.
FindPostOffice.org's online locator offers a convenient way to search for a post office near you and provides helpful information related to shipping and mailing, including creating and printing UPS shipping labels.
How to Get a Shipping Label From UPS
Creating a UPS shipping label is relatively easy when you have an account on the UPS website. Whether you are a small business, a large eCommerce corporation, or an individual who needs to ship a package, follow these steps to create a shipping label from UPS:
Log in to your UPS.com account. If you have no UPS account, sign up using your name, email address, mailing address, and phone number.
After logging in, click the Shipping tab and select "Create a Shipment."
Under the "Ship From" area, type your name and address. Next, fill out the "Ship To" area by entering the recipient's name and address.
Enter your package's essential information and select the service options you require for your delivery.
Select your desired payment method. Afterward, UPS will provide you with your shipping label in a PDF (portable document format) file. Download it and print your label.
Shipping Labels for UPS
When you create shipping labels, UPS provides different printing and size options depending on your printer or sheet. The following section lists the various sizes for UPS shipping labels.
Shipping Label Sizes for UPS
You can print UPS shipping labels using different labels and sizes. Consider using a sheet label if you have an inkjet or laser printer or a label roll if you use a thermal printer.
The following label products allow you to print your UPS labels:
8.5 inches (in) x 11in laser label: For printing one, two, or four labels per page
4in x 6in or 4in x 6.25in thermal label: For standard labels
4in x 8in or 4in x 8.25in thermal label: For document labels
4in x 11in thermal label: For UPS World Ease labels
A4 210 millimeters (mm) x 297mm (8.3in x 11.7in) laser label: For customizing labels with a shipment label header, generic barcode, or reference number
You can purchase blank label sheets with these sizes in online stores like Amazon, eBay, or Shopify.
Shipping Labels Explained
Shipping labels vary among carriers like UPS, USPS (United States Postal Service), FedEx (Federal Express), and DHL. Still, these labels usually contain similar information, like the following: 
Sender's address: Refers to the return address that UPS uses to return the mail in case of a non-delivery.
Recipient's address: Contains the package's destination address.
Recipient ZIP code: Contains the recipient's ZIP Code, IMpb (Intelligent Mail package barcode), or postal barcode.
Package weight: Refers to the gross package weight that includes the item being shipped and the box or packaging.
Maxicode: Refers to a unidirectional code that a machine can read easily regardless of direction.
Service type: Refers to the shipment method like standard or priority.
Routing number: Determines where the shipment will be routed.
Tracking number: Contains a number that customers can use to track their packages online.
Create and Print Shipping Labels
UPS allows you to create and print shipping labels for domestic and international shipments online. You have the option to use a desktop, laptop, or mobile device so you can create and print these labels conveniently.
How to Create a Shipping Label
Different carriers have varying processes for creating shipping labels. For UPS, you must sign up for an account on its website, create a shipment, provide the package information, and pay before the carrier can create a shipping label.
Required Labels for Domestic Air
For domestic shipments, packages bound to or coming from New York, Georgia, Pennsylvania, Washington, Arkansas, or any state, UPS requires you to use labels printed from a UPS air shipping document (ASD) or an automated shipping system like UPS.com. The ASD combines your address label, shipping record, and tracking label in one form. The carrier provides specific ASDs for the following UPS services:
Next Day Air Early
Next Day Air (can also be used for UPS Worldwide Express)
2nd Day Air A.M.
If you want to order ASDs online, you can do so on UPS.com's supplies page. Each ASD has detailed preparation instructions on its reverse side to help you fill out the form correctly.
UPS Ground Required Shipping Labels
When you send UPS Ground shipments, you must attach an address label with "to" and "from" information inside and outside your package. If you want a guaranteed delivery, consider sticking a UPS Ground tracking label as well.
Pro Tip
UPS.com offers many time-saving tools that you can use by registering for a UPS account and logging in whenever you ship packages. UPS accepts PayPal and major credit cards, depending on your preference. UPS encrypts all payment transactions on its website to ensure privacy.
How to Create UPS Bulk Shipping Labels
If you're a frequent bulk shipper, UPS allows you to create shipping labels for bulk shipments through batch file shipping. This method lets you create up to 250 shipments with one file upload.
Before you create the shipping labels, prepare a document listing your recipient details. UPS provides a downloadable template containing instructions and guidelines on encoding the receiving addresses.
Once you have prepared your recipient list, follow these steps for batch shipping:
Log in to your account and click "Choose File" to upload the template file from your computer.
Confirm your "Ship From" address and edit if needed.
Select your payment method.
Click "Preview Batch" to review each shipment before creating the labels. You can also click "Process Batch" to print the labels.
How to Print Shipping Labels
UPS Internet Shipping offers a fast, convenient way to schedule your shipment by comparing service options and creating shipping labels quickly. You can set your preferences and see your shipment history when you log in.
This service also lets you print domestic and international shipping labels using any computer with internet access. One convenient feature of UPS Internet Shipping is that you do not need to install shipping software on your computer.
When you create labels online, UPS Internet Shipping will not require a UPS account number. The company will bill your shipping costs directly to your payment card, like a debit or credit card.
To send letters or packages through UPS Internet Shipping, click the Shipping tab and select "Create a Shipment" from the dropdown menu. If you have no UPS.com account, the website will require you to complete the registration form and select a user ID and password before proceeding.
Fill out your name, mailing address, email address, and phone number in the registration form. UPS automatically sets your mailing address as your shipment´s return address. Still, you can update your registration information at any time.
After registration and login, you can start creating shipping labels for your packages. These professional labels include address validation elements like city, state, and postal code for U.S. addresses.
Once you complete the service information, your shipping labels will be ready to print. Note that there are compatible printers available, depending on the type of label you wish to print. These label printers include the following:
| | |
| --- | --- |
| Label type | Compatible printer |
| 4in x 6in direct thermal labels | Datamax, Sato, or Zebra |
| 4in x 6in direct thermal fanfold labels | Datamax, Intermac, Sato, or Zebra |
| Dymo 4in x 6in labels | Dymo LabelWriter 4XL |
| 8.5in x 11in full-sheet labels | Laser or inkjet printers |
How Long Are UPS Shipping Labels Good for?
To minimize shipping hassles, send your UPS shipment before the ship-by date on the label. Your package's shipping label will expire after this date. UPS may no longer deliver the box outside the delivery window.
Label expiry dates, shipment voiding, and return labels can differ among major carriers. Usually, the carrier will not deliver a package with an expired shipping label.
UPS allows you to cancel your shipment for up to 90 days, even after creating a shipping label on the website. UPS will not charge you for the label, and the company will not deliver your item to your intended recipient.
Are Shipping Labels From UPS Free?
You can order shipping supplies from UPS for free, including shipping labels, boxes, pouches, express envelopes, shipping forms, and hazmat (hazardous materials) supplies.
When you order these supplies only, they should arrive within a few business days. After placing your order, you can add up to 10 items to a quick list for your reordering convenience.
Tips on Packaging
When you're packing your item for shipping, the following tips can help ensure your package's safety and security:
Use packaging that can support the weight of its contents: Choose a box that does not have bends, tears, or other flaws that may compromise the items inside. UPS can provide the necessary packaging materials, or you can use a personal box.
If you use personal packaging, consider utilizing a new corrugated box and ensure that it is rigid and has intact flaps.
Utilize appropriate cushioning materials to keep the box's contents safe: Use packing paper, bubble wrap, or foam materials to wrap each item inside the box separately for added security. Ensure that the inside of the box is not in direct contact with the contents.
Use a strong sealant to seal your package: Use strong tape, preferably one specifically designed for shipping and at least two inches wide. Some shipping providers recommend using nylon-reinforced tape or those made from pressure-sensitive plastic.
Label your shipment correctly: Include all pertinent delivery information, like postal codes, apartment numbers, and shipping instructions. You can also use the UPS online shipping service to create your label and ensure that you have complete shipping information.
Remove existing labels: If you are reusing a box, remove any previous labels and cross out old markings. Position the new label on top of the packaging. Also, avoid placing the label on the seams or using tape to secure it.
Desktop System and Browser Requirements
To create a shipment using UPS CampusShip or UPS Internet Shipping, ensure that your computer meets the following browser and system requirements:
| | | | | | |
| --- | --- | --- | --- | --- | --- |
| Desktop browser and version | Microsoft Edge 41.x | Mozilla Firefox 59.x | Google Chrome 64.x | Safari 11.0 | Safari 10.0 |
| Windows 10 | ✓ | ✓ | ✓ | | |
| Windows 8.1 | | ✓ | ✓ | | |
| Windows 7 | | ✓ | ✓ | | |
| Mac OS/X 10.13 | | | ✓ | ✓ | ✓ |
| Mac OS/X 10.12 | | | ✓ | ✓ | ✓ |
Mobile System and Browser Requirements
If you are creating shipping labels from a mobile device, it should meet the following requirements:
| | | | | | |
| --- | --- | --- | --- | --- | --- |
| Mobile browser and version | Safari 11.x | Android (default) | Mozilla Firefox 58.x | Google Chrome 49.x | Opera Mini 8.x |
| Android 8.x | | | ✓ | | |
| Android 7.x | | ✓ | | ✓ | ✓ |
| Android 6.x | | ✓ | | ✓ | ✓ |
| iOS 11.x | ✓ | | | ✓ | ✓ |
| iOS 10.x | ✓ | | | ✓ | |
Browser Configurations
UPS recommends configuring your browser with the following settings for the best results:
Accept graphics
Accept cookies (a piece of website data stored in your web browser)
Allow JavaScript (a web programming language)
Enable SSL (secure socket layer) encryption technology
Save encrypted pages to your disk
Disable pop-up removal software
Pop-up removal software disables pop-up windows from appearing on your browser. If you do not disable this software, you may have difficulty using UPS services like UPS Internet Shipping and CampusShip effectively. These services use pop-ups to enter new addresses and display or print labels and receipts.