USPS Delivery Confirmation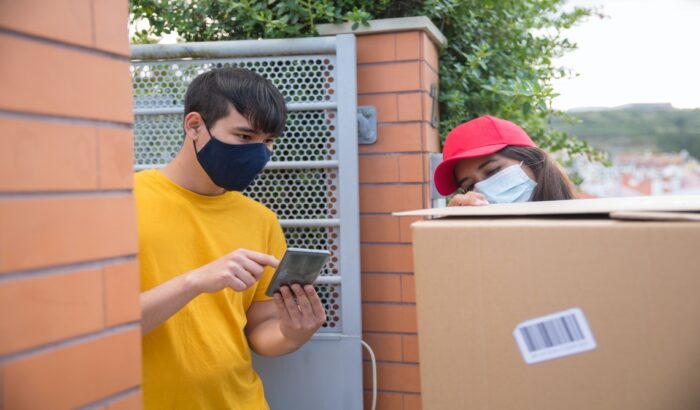 Are you a frequent shipper? If so, you've probably experienced the anxiety of waiting to see if a package was delivered safely.
Shipping companies offer a delivery confirmation option to help customers feel more at ease. But what is USPS Delivery Confirmation? How do you add this service to your shipping order?
What is a USPS Signature Confirmation? How does it work, and how much does it cost as an add-on feature? What is USPS Informed Delivery?
This article tackles everything you need to know about USPS Delivery Confirmation and how to add it to your deliveries. This article also explores the benefits, costs, restrictions, and proper use of USPS Signature Confirmation and Informed Delivery services.
USPS Delivery Confirmation gives shippers and receivers assurance that the package they sent or received has reached its destination safely. Although some services may take an extra step, it's worth the trouble.
If you want to know more about how to ship your package safely and how to get a delivery confirmation, ask the clerk at your local post office for advice on services.
Get directions to the nearest post office in your area by navigating to FindPostOffice.org on your browser. This website can be a helpful guide to locating all 31,330 post offices in Los Angeles, Dallas, Chicago, New York, Miami, and other cities in the United States. 
USPS Introduces New Proof of Delivery Letter
The Postal Service released an improved version of its Proof of Delivery (POD) letter in 2018. The redesigned version is part of an effort to make it easier for customers to be sure that items requiring signatures are delivered.
The letter, which customers receive by email, has been updated to include the following new elements:
Delivery location (like the porch, front door, inside gate, reception desk)
Postal Service product (mail service)
Extra services
Recipient name and destination address (information provided by the shipper via electronic documentation or captured upon acceptance of the package)
Package weight
What Is USPS Delivery Confirmation?
USPS Delivery Confirmation provides the date and time the package was delivered to the recipient. If delivery were unsuccessful, USPS would inform you of the date and time of attempted delivery.
Delivery Confirmation is available for First-Class Mail, Priority Mail, and Parcel Select parcels at no additional cost. Delivery Confirmation for non-barcoded items in Media Mail costs $1.05.
Report a Lost Shipment
Delivery Confirmation also comes in handy when reporting a lost shipment. If your Priority Mail or First Class Package has yet to arrive, you must file a claim at USPS no later than 60 days from the mailing date.
Contact the USPS call center by phone at 1-800-ASK USPS (1-800-275-8777) to inform a customer service representative of your lost mail.
Visit the USPS website and fill out a missing mail report.
Access Tracking Details
To access your tracking details, you can:
View your shipment status from your mailing account via the "my shipments" tab.
Use the "track and confirm" on USPS.com to track the package's progress.
Contact the postal service directly at 1-800-222-1811.
General Restrictions Apply
The package must be more than 3/4 inches thick. Pack your thin contents in a container or rigid box that will not flatten during handling and delivery.
How Do You Add USPS Delivery Confirmation?
You can access the Delivery Confirmation feature by using the extra services on the USPS website. The following explains the various special delivery services offered by USPS.
Delivery Confirmation
The delivery confirmation gives you and your recipient peace of mind by allowing you to track the package's journey through the mail.
Some domestic ship types come with free Delivery Confirmation. You can choose whether or not you want Delivery Confirmation when creating the shipping label.
USPS automatically includes Delivery Confirmation in the following domestic ship types:
First Class Mail (except the Large Envelope or Flat Envelope)
Priority Mail Express
Parcel Select
Media Mail
Most Military Mail (APO or FPO destinations)
You can refer to the USPS site for details on which countries require it and what specific guidelines apply.
Signature Required
This type of delivery confirmation includes regular tracking services and requires a signature for the package upon its receipt.
USPS keeps electronic records of all deliveries and can email you the tracking information if you request it.
Signature Required is available with all postal services except Standard Mail and Adult Signature Services.
APO (Air or Army Post Office), DPO (Diplomatic Post Office), and FPO (Fleet Post Office FPO) locations and some Freely Associated States (FAS) have limited availability for delivery confirmation with signature.
Adult Signature Required
This option is very similar to Signature Required but requires the signature of an adult at the recipient's address.
You'll receive a delivery confirmation and the recipient's signature and name. This option, available only through an online purchase, is more expensive than the Signature Required option.
Adult Signature Restricted Delivery
This delivery option gives you an extra layer of security that can help protect your package during delivery. This option allows you to track your item for a fee and gives someone over 21 years old the right to sign for it when it arrives.
The package recipient or an authorized signer may be asked for identification to accept the shipment.
Restricted Delivery
Similar to Adult Signature Restricted Delivery, this service allows you to specify any adult as the recipient of your shipment.
A delivery service may ask for the recipient's signature, ID card, or other proof of identity.
You must purchase this service along with any of the following options:
Collect on Delivery (COD)
Insured Mail (over $500)
Registered Mail or signature-confirmed mail 
The Restricted Delivery service is unavailable for shipments sent using USPS Pitney Bowes as the shipper.
Pitney Bowes, a work-share partner of USPS, provides technology and logistics to help businesses send and receive packages.
USPS Signature Confirmation Explained
The importance of the safe delivery of parcels cannot be overstated. In today's Internet-driven society, people expect a great deal from retailers and other businesses. Signature confirmation services help you track packages to ensure they arrive at their destinations.
What Is USPS Signature Confirmation?
USPS Signature Confirmation is a service that requires the signature of the recipient or a responsible party to accept the package you're sending.
The recipient must be home when the delivery is made. They must also present a valid form of identification.
Once the package has been delivered, USPS passes along a delivery confirmation to you, the shipper. This information includes the date, location, and time.
Unclaimed packages are returned to the local delivery hub. The delivery driver will leave a notice informing you that they tried to deliver the parcel. The driver may try to deliver the parcel again at another time.
Notifications of package delivery allow the shipper to verify that their package has been delivered. The recipient can be sure that their order will safely reach them.
USPS offers four different types of delivery confirmation services:
USPS Signature Confirmation: The recipient or another adult in the household must sign for the package.
USPS Adult Signature Confirmation: A person who is 21 years old or older person must accept the package.
USPS Restricted Delivery: Only a specified person can receive and accept package delivery.
USPS Adult Signature Restricted Delivery: The package can only be signed for and received by a specific adult.
Recipients can sign the confirmation electronically via USPS Electronic Signature.
Benefits of USPS Signature Confirmation
Peace of mind: Moving high-value and sensitive shipments can be risky. Delivery confirmation can help alleviate any worries about delivery.
Responsible delivery: To ensure that adults receive sensitive shipments like alcohol or CBD products, use USPS Adult Signature Confirmation.
The Cost of USPS Signature Confirmation
For a small fee, you can purchase signature confirmation to ensure your package is delivered without issues. You can purchase USPS Signature Confirmation for Priority Mail and other shipping services, such as
Priority Mail
Parcel Select
First Class
Media Mail
Retail Ground
Package Services
Signature confirmation is included in the pricing of Priority Mail Express shipments. USPS Signature Confirmation and its variants have different price points. You can purchase these services online or at a post office.
The cost of a signature confirmation package is as follows.
Post Office: $3.65
Online postage service: $3.80
Restrictions of USPS Signature Required
The following restrictions apply to USPS Signature Confirmation and similar services:
It cannot be used with First-Class Mail, USPS Marketing Mail, USPS Retail Ground, Package Services, and Periodicals.
It has limited availability. USPS does not offer Signature Confirmation for packages addressed to APO, FPO, or DPO addresses or ZIP codes in some Freely Associated States and territories.
How to Use USPS Signature Confirmation
A signature confirmation service is similar to the standard USPS tracking system. To check the delivery status, visit the tracking page for your shipment.
You can also reach the U.S. Postal Service customer line at 1-800-ASK-USPS.
If the recipient is not home, the delivery person leaves a note. This note tells the recipient when to expect delivery or where they can pick up their parcel at the post office.
USPS will send a follow-up notice after its initial attempt to deliver. Packages that a courier driver cannot deliver are held at your local post office for 15 days before being returned to the shipper.
What Is Informed Delivery?
The United States Postal Service offers the Informed Delivery service, which provides email alerts to customers when their mail has been scanned. It allows users to track their packages and view a digital version of letter-sized mail before it is delivered.
How Does Informed Delivery Work? What Will You See?
Mail travels through the USPS network using high-speed sorting machines that take pictures of the front side of a mail or parcel.
Informed Delivery shows you grayscale images of mailpieces scheduled to arrive at your delivery address.
The service also gives you updates on the delivery status of both incoming and outbound packages.
What Happens if You Live in an Area With a Specific Zip Code Where Informed Delivery Is Available, but Your Address Is Still Not Eligible for Informed Delivery?
To register for Informed Delivery, you must live in an eligible ZIP code location. This delivery information also helps verify your identity.
If you live in an eligible ZIP code but cannot sign up for the feature, it may be because your mailbox needs to be uniquely coded. This coding determines which images are displayed to each Informed Delivery user and ensures they see no other mail.
While most addresses are coded to be unique, not all of them are especially true high-density areas such as apartment buildings or condos.
You can only sign up for Informed Delivery if your address is coded.
USPS is working on expanding its Informed Delivery service so that more addresses will be eligible for it.
Unable to Sign Up for Informed Delivery Because Identity Cannot Be Verified Online: Why Can't USPS Verify Your Identity Online? How Do You Subscribe to This Feature if You Can't Verify Your Identity Online?
To sign up for Informed Delivery, you must verify your identity with USPS. If you need help verifying your identity online, visit a USPS location that offers Identity Verification services.
If you cannot verify your identity online, visit a USPS location that provides Identity Proofing services.
You can sign in to your personal USPS.com account to see the list of available USPS Identity Proofing facilities near your location. You can also use FindPost Office.org to locate a nearby post office that offers Identity Verification services.
How Much Will Consumers Pay for Informed Delivery?
Informed Delivery is a free service.
How Do You Sign Up for Informed Delivery?
To register for Informed Delivery, sign in to your existing USPS.com account, go to your "Account Preferences," and scroll down to the Informed Delivery section.
How Soon After Requesting the Feature Will You Get Images of Your Mail and Package Notifications?
You'll start to get notifications within three business days of activating this feature.
If You Signed Up for Informed Delivery but Have Not Received Any Notifications About the Status of Your Packages or Mail Images, There Are a Few Things That May Be Causing This Inconvenience.
Notices will be sent when the mail is processed and delivered to your home. Notifications are not sent on days when no mail is delivered and on Sundays or federal holidays.
If you do not receive notifications, check your spam filter settings and look in your deleted items or junk email folder. You should also check the email address you designated in your usps.com profile.
To ensure that you do not accidentally block the email alerts feature, add USPSInformedDelivery@usps.gov as a trusted source in your email client's spam filter settings.
Can the USPS Free Delivery Confirmation Service Be Used Instead of Certified Mail as a USPS Record of Proof of Delivery?
No, you can not. Even in courts, a signed acknowledgment of receipt for a certified mail item is accepted as valid proof that notice was given.
Services That Include Tracking
Priority Mail
Priority Mail Express
Parcel Select
Media Mail
First Class Mail (except large envelopes or flats)
Most Military Mail (APO or FPO destinations)
Tracking USPS Priority Mail and Delivery Confirmation
Check your package's progress by visiting the USPS website to track the status of your delivery or inquire at your local post office.
Common Misconceptions About Mail Delivery Confirmation and Mail Tracking
There are some misunderstandings among customers about mail delivery confirmation and mail tracking services. They claim that they cannot track their mail from the mailing office, and all they can find out is when it was delivered.
A worst-case scenario is when customers complain about being unable to track their parcel, especially if they have paid for a priority service.
For Global Express Guaranteed and Priority Mail Express International, you can track your packages via the track and confirm tool. Mailers are insured for up to $100, and tracking is included in the mailing price.
Delivery Confirmation is an optional service that a customer must add to the type of mail purchased. Delivery Confirmation does not track the mail. It only confirms the delivery date and time your item was delivered.
Frequently Asked Questions (FAQs)
How do I get a proof of delivery (POD) letter from USPS?
To request a proof of delivery (POD) letter:
What does my tracking number look like?
The most commonly used USPS tracking number format is 20 digits. An example of a USPS tracking number is 9400 1000 0000 0000 0000 00.
Where do I find my tracking number?
You can find your tracking number in any of the following.
Sales receipt
Self-service kiosk eReceipt
Mailing receipt
Online label record
Under the barcode on the mailed item
How can I leave delivery instructions?
To use the Delivery Instructions service, you should meet these requirements:
You must be registered to use the USPS website.
A USPS tracking number must appear on your mail piece.
After you check your qualifications on USPS.com, follow the appropriate steps and prompts.
Select the "Delivery Instructions" option next to your tracking number.
You will be asked to sign in again with your USPS account.
Read and agree to the terms and conditions, then select "Continue" to begin a Delivery Instructions request.
Is Delivery Confirmation the same as Tracking?
No. Delivery Confirmation tells you when and if your package was delivered, but it is not a tracking system.
Does Delivery Confirmation require a signature?
Yes. Delivery Confirmation requires a signature on delivery.
References: