UPS Flat Rate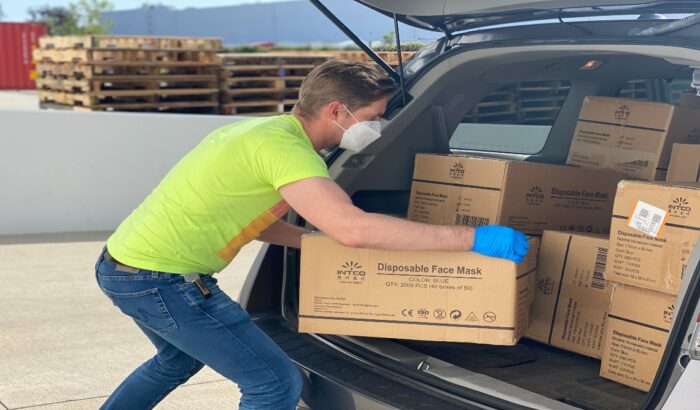 In 2021, the United Parcel Service (UPS) delivered around 25.2 million packages daily, totaling 6.4 billion packages delivered that year. The company has been delivering packages daily for its customers, consisting of 1.7 million shipping clients and 11.8 million delivery recipients.
With the number of deliveries and clients, many customers may be looking for low-cost and convenient shipping methods. The UPS Simple Rate service is one solution that the company implemented to address this need.
What benefits does the UPS Simple Rate service provide? What delivery speeds and sizes does UPS offer for sending flat-rate packages?
How much does UPS Simple Rate cost? Can you get guaranteed refunds for using UPS Simple Rate?
This article discusses the benefits of using UPS Simple Rate to send packages and explains the different delivery speeds and sizes for flat-rate packages.
This article also discusses the costs of sending UPS Simple Rate packages and tackles whether guaranteed refunds apply to UPS Simple Rate deliveries.
Flat-rate shipping through UPS Simple Rate can be a convenient and cost-effective solution for sending packages in the United States compared to other couriers' services. Learning about this service can help you plan how to send your package through flat-rate shipping.
You can also check out other UPS services through FindPostOffice.org's blog page or ask postal workers. Find the post office in California, Pennsylvania, Texas, Illinois, Florida, and other states using FindPostOffice.org's search tool.
UPS Simple Rate: What You Need to Know About This Flat Rate Option
UPS Simple Rate is a flat-rate shipping service allowing customers to choose from four shipping speeds and five different rates. Through the service, clients can send their packages anywhere within the United States.
Dive Brief
The UPS Simple Rate service lets shippers pay a flat rate according to the package size and not the destination or weight. This service also lets customers use their own packaging.
Simple Rate package sizes range from extra small (XS) to extra large (XL). Shippers can also choose from different delivery speeds from next-day to up to five days.
UPS sees flat rates as beneficial to small businesses since the service can help remove the guesswork from shipping (simplifies the shipping cost) and enhance transparency.
Dive Insight
Compared to other shipping companies, UPS was a latecomer in offering flat-rate services. The company announced the service in September 2019.
USPS (United States Postal Service) launched its flat-rate pricing for USPS Priority Mail envelopes in 1991 and Priority Mail flat-rate boxes in 2004. Meanwhile, FedEx (Federal Express) implemented One Rate as the company's flat shipping rate program in October 2013.
Although UPS Simple Rate's arrival is late compared to other couriers, the company's pricing is relatively simple. For example, while FedEx charges flat rates based on three zones, UPS implements a national flat rate for the Simple Rate service.
UPS Simple Rate Advantages
One of the advantages of UPS Simple Rate is that it allows customers to use their packaging as long as the box size falls within the specific flat rate dimensions.
In comparison, FedEx and USPS don't allow customer packaging for their flat-rate services.
UPS also allows a maximum volume of up to 1,728 cubic inches, larger than what FedEx and USPS offer.
The Benefits of UPS Simple Rate
Flat-rate shipping is convenient for online merchants as it simplifies the pricing process. When deciding whether to use UPS Simple Rate over other flat-rate shipping services, consider the following:
Branding opportunities: UPS allows you to ship using your own boxes, which can help if you're running an eCommerce business because of the branding opportunities.
By using branded packaging, you can market your business while shipping your package and make your brand more memorable to your customers.
More volume: UPS Simple Rates lets you ship packages using large boxes so you can pack more volume in your shipment. This feature is also convenient for sending lightweight but large items without worrying about the dimensional (DIM) weight.
Cost predictability: Simple Rate allows merchants to predict shipping costs, minimizing the need for pricing guesswork. This cost predictability can help businesses working on a strict budget plan their finances better.
Four Convenient Shipping Speeds
UPS Simple Rate comes with the following delivery speeds:
Next-day delivery
Two-day delivery
Delivery in three business days
Delivery within five days
Does UPS Have Flat Rate Boxes?
UPS doesn't provide flat-rate boxes. Customers must provide their own packaging, and the shipping cost will depend on the box's size.
What Size Boxes Can You Use?
Customers shipping with UPS Simple Rate can use the following box sizes:
Extra small: 1 to 100 cubic inches
Small: 101 to 250 cubic inches
Medium: 251 to 650 cubic inches
Large: 651 to 1,050 cubic inches
Extra large: 1,051 to 1,728 cubic inches
UPS Simple Rate Dimensions
UPS acknowledges that customers can use different-sized boxes to send packages and provides different box dimensions in inches (") for the following size categories:
Extra small

4" x 4" x 4"
6" x 4" x 4"
8" x 6" x 2"

Small

6" x 6" x 6"
8" x 6" x 5"
12" x 9" x 2"

Medium

8" x 8" x 8"
12" x 9" x 6"
13" x 11" x 2"

Large

10" x 10" x 10"
12" x 12" x 7"
15" x 11" x 6"

Extra large

12" x 12" x 12"
16" x 12" x 9"
18" x 12" x 6"
What Does UPS Simple Rate Cost?
For each box size category, UPS Simple Rate provides the following costs:
Extra Small
The shipping cost for packages categorized as extra small starts at $10.20.
Small
For small packages, the Simple Rate price starts at $13.35.
Medium
UPS Simple Rate for medium boxes starts at $16.05.
Large
For large boxes, the flat rate shipping cost starts at $21.05.
Extra Large
UPS allows flat-rate shipping for extra large packages starting at $26.05.
How Long Does Flat Rate Shipping Take?
Other shipping services like FedEx One Rate and USPS Priority Mail offer flat-rate shipping that delivers in one to three business days. In comparison, UPS Simple Rate has more options that can ship in one to five days.
A delivery speed of two to three business days works, assuming that the sender places the package in a dropbox or gives the item to the carrier on a business day (Monday to Friday). The delivery schedule also works if there is a Saturday delivery or the carrier doesn't experience delays.
So when a sender ships the package on the weekend, the delivery speed can take longer, especially if the courier doesn't count Sundays and holidays as delivery days.
Why Use Flat Rate Shipping?
Flat-rate shipping allows businesses to standardize shipping costs and control price variations due to shipping distance, DIM weight, and seasonal peaks. This feature makes flat-rate shipping convenient for online sellers looking to optimize their shipping strategies.
What Services Does UPS Simple Rate Offer?
Senders who want to take advantage of UPS Simple Rate can choose from the following service options:
UPS 2nd Day Air
UPS 3 Day Select
While UPS Ground and UPS 2nd Day Air delivers to all 50 U.S. states, 3 Day Select and Next Day Air Saver ship to the 48 contiguous states (excluding Alaska and Hawaii) only.
Additionally, UPS Simple Rate doesn't offer international deliveries.
Do Guaranteed Service Refunds (GSR) Apply to UPS Simple Rate?
UPS has temporarily suspended its Service Guarantee until further notice except for UPS Next Day Air, Next Day Air Saver, Next Day Air Early, and several UPS Worldwide Express services.
This suspension means customers sending packages through Next Day Air Saver may still utilize GSR for UPS Simple Rate. For more information on GSR, call the UPS customer service at 1-800-742-5877.
What Makes UPS Simple Rate Different From FedEx and USPS Flat Rate?
UPS Simple Rate allows a maximum volume of up to 1,728 cubic inches. On the other hand, FedEx has a volume limit of up to 1,452 cubic inches, while USPS allows up to 1,200 cubic inches only.
UPS and FedEx accept a declared value of up to $100 for flat-rate shipping. Meanwhile, USPS accepts up to $50 only.
UPS and USPS flat-rate pricing uses a national flat rate. In contrast, FedEx's shipping rate varies based on three delivery zones.
What Other Shipping Rates Are Available Through UPS?
Aside from offering Simple Rate services, UPS also provides the following rates:
Daily Rates
Daily rates apply for scheduled UPS pickups or if you have a UPS contract that offers you daily rates. These rates are also subject to Demand Surcharges based on Demand Periods for certain domestic and international shipments.
Retail Rates
Retail rates apply in the following situations:
You are shipping from a UPS location like The UPS Store
You do not have a UPS account
You do not have a scheduled pickup
Finding the Cheapest Flat-Rate Prices
The best way to find which shipping service has the lowest flat-rate price is to compare these services.
As of February 2022, flat-rate pricing comparisons between UPS, FedEx, and USPS are as follows:
Small boxes

UPS: $13.35
FedEx: $12.40
USPS: $10.20

Medium boxes

UPS: $16.05
FedEx: $16.50
USPS: $17.10

Large boxes

UPS: $21.05
FedEx: $24.95
USPS: $22.80
Other Important Details
All standard pickup and drop-off options are available through UPS Simple Rate. Shippers can use a daily pickup or drop-off at any UPS location, which includes:
UPS drop boxes
UPS customer counters
UPS stores
UPS-authorized shipping outlets
Flat Rates, Bigger Profits
Several couriers offer many shipping options. For many businesses, such choices mean familiarizing and mastering eCommerce shipping. It can take some time, mainly when calculating shipping costs.
Flat-rate shipping is an excellent solution that can help simplify shipping by offering a flat rate for a range of products. Such an offer can help businesses ship packages cost-effectively and efficiently, giving these businesses more opportunities to save time and money while increasing profit.
What Is Flat Rate Shipping?
Flat-rate shipping is a courier service where the shipping cost usually depends on the package's size instead of the item's DIM weight.
You can calculate an item's DIM weight by multiplying the length, width, and height and dividing the product by the courier's DIM weight factor.
Flat-rate shipping is also usually exempt from peak season surcharges, making this service an affordable way to send packages during the holidays.
Some shipping carriers offer flat rates for specific packages regardless of the destination. These rates allow eCommerce merchants to ship different items to various locations for the same price, as long as the item fits the shipping box size.
How Do Flat-Rate Boxes Work?
Flat-rate shipping charges customers a single price regardless of how much their box weighs, provided that the package falls under the courier's standard maximum weight.
Some shipping companies provide flat rates based on the box size. Other couriers offer flat-rate pricing based on size, delivery speed, and destination. Regardless of your choice, flat-rate pricing lets you pack your item and pay a single price conveniently.
FAQs
Do I need an account to ship with Simple Rate?
Having a UPS account makes it convenient for you to send packages frequently. But you don't need to open an account to use UPS Simple Rate. If you don't need to send packages often, you can send a flat-rate package without creating an account.
Where can I ship to and from using UPS Simple Rate?
UPS Simple Rate allows you to ship packages domestically to all 50 U.S. states. But UPS doesn't offer this service to international shipments.
Do I need special packaging to use Simple Rate?
There's no need to use special packaging to send items through UPS Simple Rate. Senders can use their own box to ship their item as long as the size fits UPS' standard 1,728 cubic inches.
What if my package is heavier or larger and exceeds Simple Rate limits?
If your package's size exceeds 1,728 cubic inches or weighs more than 50 pounds (lbs), you must use the standard UPS rates based on the item's DIM weight and zone.
Can I ship returns with Simple Rate?
UPS Simple Rate allows you to utilize printed return labels. If you're running a business, return labels give customers convenience when returning packages to you via UPS.
Does UPS have branded boxes you can purchase for Simple Rate shipments?
Although you can use your packaging when sending items through Simple Rate, you can also purchase branded boxes through UPS.
Meanwhile, qualifying UPS Customer Technology Program clients can receive a subsidy to buy Simple Rate boxes.
Are there certain items that can't be shipped?
UPS considers the following items as prohibited dangerous goods:
Explosives
Toxic gasses
Substances that can emit flammable gasses when in contact with water
Category A infectious substances
Radioactive materials
Category A infectious substances are goods that can cause permanent disability or life-threatening disease among healthy humans or animals.
As a shipping company, UPS must comply with all government laws and regulations relating to hazardous materials transportation. While not all dangerous goods are prohibited from being shipped, UPS must have compliant, standardized, and efficient handling methods for hazardous materials.
Are UPS flat-rate boxes free?
UPS allows senders, especially eCommerce merchants, to use their own packaging for free for Simple Rate shipping. But you can also purchase shipping boxes from UPS if you prefer UPS packaging. For specific box sizes, availability, and pricing, contact your local UPS Store.
How much is a UPS flat-rate envelope?
UPS does not have flat-rate envelopes. Simple Rate applies only to boxes that don't exceed 1,728 cubic inches. Shipping costs start at $10.20 for an extra small box. So if you want to use Simple Rate for sending documents, you may need to put them inside a flat rate box.
How much does shipping a UPS flat-rate box overnight cost?
The cost to send a flat-rate package depends on the box size and shipping service (delivery speed) you select. For example, an extra small box sent from New York to Los Angeles has the following costs:
UPS Next Day Air Saver: $37.35
UPS 2nd Day Air: $24.85
UPS 3 Day Select: $17.80
UPS Ground: $10.90
Is it cheaper to use a flat-rate box or your own box?
UPS Simple Rate allows senders to use their box for no extra cost. If you purchase a UPS box for flat-rate shipping, you may need to pay the additional cost of that box.
Some shipping providers may require you to use their packaging to be eligible for flat-rate shipping. Others may give you variable pricing if you use your own box, which can cost more depending on your shipping.
Is UPS flat-rate shipping cheaper?
Flat-rate shipping can be economical if you're shipping small but heavy items. Your package's weight won't impact the shipping cost, provided the item is within your provider's dimensions and weight limit.
Where can I get flat-rate boxes?
Other shipping companies like FedEx and USPS provide flat-rate boxes that you can purchase from these companies' websites when you use flat-rate shipping. Meanwhile, UPS Simple Rate lets you use your boxes as long as they have the correct dimensions.
You can also contact UPS if you prefer to purchase its boxes instead of using your own packaging.
How do I order flat-rate boxes?
Ordering flat-rate boxes depends on your shipping provider.
With FedEx, you get free packaging products like envelopes, tubes, and boxes, depending on the flat-rate delivery service of your choice. USPS also offers free packaging supplies like envelopes and boxes for Priority Mail flat-rate products.
Is flat-rate shipping faster than free shipping?
The delivery speed isn't always dependent on the shipping price. Thus, determining whether a flat rate or free shipping is faster depends on factors other than price alone.
Instead, the delivery speed usually depends on the customer's shipping service.
For example, a free shipping service that delivers your package in three to five days can be comparable to a flat-rate ground shipping solution that delivers within the same time frame.
References
Infectious Substance Description
https://ehs.ucsc.edu/shipping/infectious.html
Priority Mail
https://www.usps.com/ship/priority-mail.htm