FedEx Tracking Number Format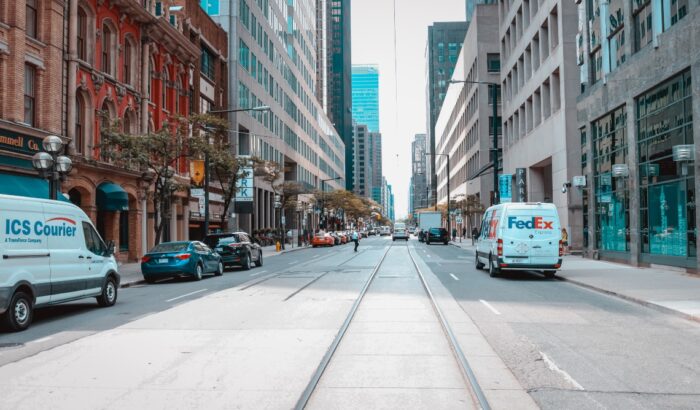 Did you know that FedEx (Federal Express) receives over 600 million package status tracking requests daily? One can't begin to stress how this is a feat for a delivery service company that started its online tracking system in 1994. 
So, if you're among those who use FedEx regularly and want to know more about tracking numbers and their format, this article is for you. 
To understand the FedEx tracking number format, you'll need the answer to the following questions: what does a FedEx tracking number look like? How can you track your parcel from FedEx? Is it possible to track a FedEx parcel without a tracking number?
You may also be wondering how long a FedEx number lasts or what the statuses on your parcel mean.
After reading this article, you'll get the necessary information on FedEx tracking numbers and how they can help you keep tabs on your parcel.
Furthermore, you'll know whether you can still track a package without a tracking number. Finally, you'll get a guide to understanding package statuses you might encounter while tracking your delivery.  
Tracking numbers are unique identifiers for packages or shipments that various delivery companies issue. It's essential to know what they look like because a tracking number can help you check the status of your parcel during transit. This article can help you understand how FedEx tracking numbers work.
If you're considering shipping a parcel soon, explore your options by visiting the nearest post office. A mail clerk can also explain further what to do if you have questions about tracking numbers and your mail.
You can get directions to a nearby post office by checking out FindPostOffice.org. This website is an essential guide in locating all 31,330 post offices in Los Angeles, Chicago, Houston, New York, Seattle, and other cities the United States.
How to Track a FedEx Parcel
You can visit the FedEx website and track your shipments on its tracking section, which you can access at the top navigation bar. You can always head to this page to use the FedEx online tracking service.
When you access the tracking portal, you can enter up to 30 tracking numbers, door tag numbers, or FedEx Office order numbers. This tracking system is a convenient way to manage your delivery options, especially for customers with multiple orders.
What Numbers Can You Track?
The following FedEx services have tracking numbers that you can use to track your package during deliveries:
FedEx Express
FedEx Freight
FedEx Custom Critical
FedEx Trade Networks
FedEx Tracking Number Lookup
If you want to look up your FedEx tracking number or verify if the number you have is the correct number for the actual packages to be delivered, just visit the package search on the company's website. You only need to input the 12-digit number that you can see on the FedEx shipping label. It's usually found next to the barcode on a package label. 
What Are the Various Formats of a FedEx Tracking Number?
Formats for a FedEx tracking number may vary, especially for services like FedEx Ground and FedEx Express. In some cases, the tracking number may feature 12 to 15 digits or character groupings 20 to 22 digits long.
Here are some FedEx tracking number format samples
9999 9999 9999
9999 9999 9999 999
9999 9999 9999 9999 9999
9999 9999 9999 9999 9999 99
Other tracking number examples:
Door tag number: DT123456789123
Note: A door tag is a notification left by the shipping address if the recipient is not home to receive the package.
How to Track a FedEx Parcel Without a Tracking Number
You can still track your packages if you do not have access to their tracking numbers. You can monitor your packages through their reference numbers via the FedEx tracking system.
You can also track a FedEx package without a tracking number through the FedEx Delivery Manager. After signing up for this service, you'll receive alerts about your parcel, saving you time.
How Many Ways Are There to Track FedEx?
FedEx has grown through the years and developed workarounds for different situations its customers may encounter while using its service. Not having access to a tracking number is one situation that may trouble a customer.
As such, FedEx has provided more than one way to track your packages. Here are alternative package tracking methods:
You can track your package using the FedEx Delivery Manager
You can call the FedEx hotline (1-800-GoFedEx or 1-800-463-3339) and say, "track my package"
You can track your package by reference number
You can track it by door tag number
You can track it using the TCN (transportation control number)
Note: a transportation control number is a 17-character number assigned for monitoring package location throughout the delivery process and for payment.
How Long Is a FedEx Tracking Number Good for?
FedEx makes your tracking information available for 90 days after delivery before it expires for the following services:
FedEx Express
FedEx Express Freight
FedEx Ground
FedEx Ground Economy (formerly FedEx SmartPost)
FedEx Custom Critical
For FedEx Freight shipments, tracking information is available for two years after delivery.
FedEx Tracking Statuses: What Are the Types of FedEx Tracking Statuses?
When you use FedEx and its tracking system, you will receive your package's tracking status and real-time notifications. However, some terms you'll encounter might be confusing. Here's a glossary to help you understand those statuses:
In transit: When you get this status, your package is being delivered to its final destination. Your shipment may be on the road or at a FedEx sorting facility.
Out for delivery: This status means that a package handler has scanned your package and is preparing to load it onto a FedEx truck.
Delivered: Your package has reached its final destination when you get this status.
Scheduled delivery is now pending: FedEx gives this status, especially when delivery schedules are delayed, to inform you that they're doing all they can to deliver your package as soon as possible.
Delivery exception: If your package has this status, it means that an unexpected event has delayed the delivery of your package.
Delivery is held, unable to collect payment: This status means that FedEx attempted to contact you about issues you need to settle before the delivery is completed. Examples of these issues are:
Unpaid charges
Duties
Taxes
Clearance delay: The shipment is currently being processed by customs due to delays caused by the following:
Missing documentation
Inaccurate, incomplete, or missing information on documentation
Additional documents and processing required by regulatory agencies
Missing pieces of multiple-piece shipments
At a local FedEx facility: When you get this status, your package has arrived at a local FedEx facility and is awaiting the next step in the delivery process.
FedEx Customer Service and Phone Numbers
Here is a list of FedEx's customer service numbers for North America (U.S. and Canada):
U.S. and Canada: Contact 1-800-Go-FedEx or 1-800-463-3339
For U.S. International Customer Service: Contact 1-800-247-4747
For United States TDD (Telephone Device for the Deaf): Contact 1-800-238-4461 – 7:00 AM to 8:00 PM CST (Central Standard Time)
Hearing Impaired Relay Desk: Contact 1-888-464-0709
U.S. Billing Inquiries: Contact 1-800-622-1147
Cargo Claims Inquiries: Contact 1-800-Go-FedEx or 1-800-463-3339
U.S. FedEx Express Freight Services: Contact 1-800-332-0807
What Is FedEx?
FedEx is one of the household names when it comes to delivery shipping and courier services. From its small beginnings, the company has grown into a global shipping solution provider earning an estimated annual revenue of $94 billion. 
The company has over 550,000 employees worldwide, earning a reputation as one of the world's most admired employers and an active participant in responsible resource management to reduce its environmental impact by 2040.
FedEx Corporation is known to be a global shipping, logistics, and e-commerce solutions provider. FedEx generates a $94 billion annual revenue by providing integrated business solutions through operating sections that compete collectively, operate collaboratively, and innovate digitally under the respected FedEx brand.
With over 550,000 employees worldwide and a history of top-tier customer service, FedEx is ranked among the world's most admired employers.
FedEx is working to reduce its environmental impact by 2040 through responsible resource management.
Here are some of the services provided by FedEx:
FedEx Express: FedEx Express has revolutionized how companies and individuals ship FedEx packages, offering reliable delivery to more than 220 countries worldwide.
FedEx Freight: This option offers less-than-truckload (LTL) freight services that transport small and large shipments to domestic businesses and residences.
FedEx Services: It provides various systems that support the company's transportation segments by enabling them to focus on their core businesses.
FedEx Logistics: Logistics is an operating segment and one of the company's most important parts, providing a comprehensive suite of integrated logistics solutions.
FedEx Office: This FedEx option provides various printing services, including copying, digital printing, and professional finishing.
FedEx Dataworks: It uses the information gathered from FedEx's massive global network to create digital solutions.
FedEx Ground: This service provides economical and day-certain delivery options to business addresses in the U.S. and Canada. It also offers a residential delivery service called FedEx Home Delivery service to all addresses within the United States.
Customers should choose FedEx Home Delivery if they want the recipient to get the package sooner. They should be ready to wait longer if they pick the FedEx Ground Economy service. This FedEx shipping service delivers customers large volumes of low-weight, less time-sensitive packages.
Frequently Asked Questions (FAQs)
What may be the reason why my shipment has no tracking records?
Some packages may end up without tracking numbers because they weren't scanned properly. One reason for this problem is the number of packages FedEx processes daily. At this point, problems may occur during the delivery process, resulting in delays.
What does "in transit" mean from my FedEx status?
"In transit" is a notification status that means your package is on its way to its final destination.
What time does FedEx usually deliver?
FedEx typically delivers packages between 8:00 AM and 8:00 PM. Still, delivery times may vary based on your choice of service and the factors surrounding your delivery.
How do I use my door tag number to track my package?
You can track your package by using your door tag number. You just need to enter your door tag number into the tracking system. Your door tag number usually starts with "DT," followed by 12 digits.
What does the FedEx status "exception" mean?
A delivery exception means your package has been delayed while in transit due to unforeseen or unavoidable circumstances. Reasons for the delay include bad weather, a natural disaster, or a vehicle issue, usually a flat tire.
How do I track a FedEx SmartPost letter from USPS (United States Postal Service)?
You can track your FedEx SmartPost (now known as FedEx Ground Economy) by entering the tracking number on the FedEx website and navigating to "tracking" on the navigation bar.
I've been tracking my shipment, and there haven't been any updates in more than 24 hours. What should I do?
It's not unusual for a package to go more than 24 hours with no update. You can continue to wait until you receive a notification about your shipment's status.
How long does FedEx take to update its tracking?
FedEx personnel check packages as they go from one facility to another. Once your package is scanned, the status gets updated. However, it's not uncommon for updates to be available only after 24 hours.
My shipment had an estimated delivery date when I first tracked it; now, there isn't one. What does this mean?
Delivery times may change depending on the circumstances during the delivery. Several factors may cause setbacks, from environmental factors to handling issues. Call FedEx through its customer support line for more information about your package.
What do I do when FedEx tracking isn't updating?
No new updates don't immediately mean that your package is lost. If it's still in transit and heading to another facility, FedEx personnel will scan your package.  
I tracked my shipment, and there were no scans. What should I do?
You can contact the shipper if your packages can't be located using their tracking number. If you're the shipper and you can't track your shipment after 24 hours, contact FedEx directly. 
References