Does FedEx Sell Stamps?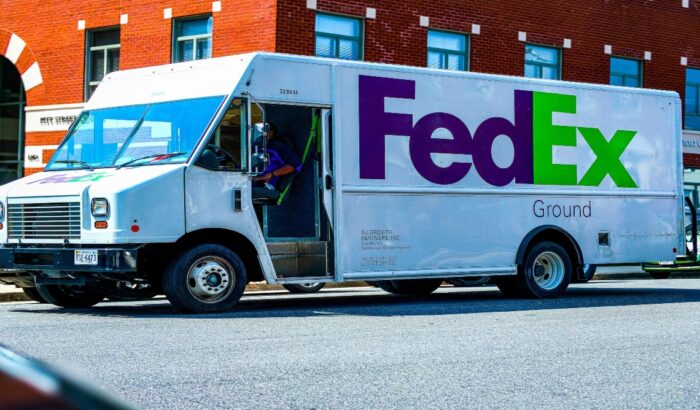 Do you regularly ship mail or packages in the U.S. or abroad? Chances are you've heard of FedEx or have been its customer. If so, you might have asked the following questions:
Does FedEx sell USPS stamps? Why should you buy stamps from FedEx? How much are the postages from FedEx, and how can you buy them? What other postage services does FedEx offer? 
This article examines whether you can buy stamps directly from FedEx, whether online or from its numerous locations. It also covers other postage services that FedEx offers and how you can locate its branch offices.
You can always check out your local post office if you need to purchase USPS postage stamps. Using the FindPostOffice.org website, you can easily find the nearest post office. This website can help you locate the 31,330 post offices in the United States.
Stamps at FedEx: Does FedEx Sell Stamps?
The short answer is no. But while postage stamps may not be available at FedEx, the company can help you with your mailing needs.
FedEx is one of the largest courier services in the U.S., offering customers its own range of shipping options to deliver packages anywhere in the country and abroad. 
FedEx does not have an affiliation with USPS, so it doesn't sell U.S. postage stamps. Still, with FedEx's competitive pricing, buying shipping services from its numerous locations is as convenient as buying regular stamps at your local post office.
Does FedEx or Kinkos Sell Individual Stamps?
No, they do not sell stamps or individual postage stamps.
In 2004, FedEx bought the Kinko's chain of copy shops and changed the name to "FedEx-Kinko's." However, around 2008, FedEx dropped the "Kinko's" from its name and changed it again to "FedEx Office."
Does FedEx or Kinkos Sell Stamps Online?
FedEx only offers self-inking rubber stamps on its website. A self-inking stamp makes the traditional rubber stamp automatic by re-inking for each impression. The personalized die is made of rubber, and you can usually choose your ink stamps and color.
Rubber stamps are used to authenticate official documents. It may be made of wood, rubber, plastic, or a combination of these materials.
The rubber stamp usually includes vital company information such as registration number, name, and contact details. Details are engraved on one side of the rubber stamp, then transferred to paper through the ink.
Although rubber and postage stamps may seem similar, they do not serve the same purpose.
Postage stamps are small adhesive pieces of paper that a postal authority issues to customers as evidence that postage has been paid. Postage stamps are the most commonly used type of stamp and have a fixed rate noted on them.
Postage Options at FedEx.com Online
You cannot buy U.S. Postal Service postage stamps online through FedEx. However, this does not mean FedEx cannot assist you in other ways.
FedEx.com offers various services to help with all your mailing and shipping needs, including the following:
You can use the "Create A Shipment" page on the FedEx.com website to print an envelope or package label.
To track a shipment, go to the "Tracking" page on the website.
Use the FedEx Store Locator to find locations nearest you.
Contact customer service by clicking on the "Customer Support" link. Customer service representatives can assist you with any shipping, mailing, or tracking questions.
Why Buy Stamps From FedEx?
You can't buy postage stamps from FedEx because it doesn't sell them. Although the company sells self-inking rubber stamps, you can not use them as postage.
Postage Stamps Price in FedEx: How Much Do Stamps Cost at FedEx?
Since FedEx does not sell stamps, there are no prices available for postage stamps. Still, if you need to ship an item, you can go to any FedEx location, where you will be charged according to the weight of your package.
Meanwhile, the U.S. Postal Service implemented new postage rates for most mailing products on July 10, 2022. If you buy postage stamps elsewhere, you should know the current rates for shipping.
For a one-ounce First-Class Mail letter, the cost of postage purchased at the post office increased from $0.58 to $0.60 per stamp, a two-cent hike in price.
A "Metered Mail" rate for one-ounce First-Class Mail letters, which includes postage meters and online postage, increased from $0.53 to $0.57 per stamp, a four-cent hike.
The additional ounce rate for First-Class Mail letters increased from $0.20 to $0.24, a four-cent hike.
Postage for one-ounce First-Class Mail Flats or Large Envelopes increased from $1.16 to $1.20 per piece. For each additional ounce, there will be an extra cost of $0.24.
One-ounce First-Class Mail International letter postage rates hiked from $1.30 to $1.40, a 10-cent increase.
Postcards had a four-cent increase from $0.40 to $0.44.
Certified Mail had a 25-cent increase from $3.75 to $4.00.
Starting in July 2022, the Postal Service increased its rates for other services such as Registered Mail, Signature Confirmation, and Return Receipt.
Buying Stamps at FedEx: How to Buy Stamps at FedEx
Stamps can't be purchased at any FedEx stores. However, you can buy envelopes and other mailing supplies at FedEx.
Stamps can be purchased at many places, including the U.S. Post Office and UPS (United Parcel Service) stores in California, New York, Florida, Washington, Colorado, New Hampshire and other states. USPS has a partnership with UPS that allows it to offer services such as selling postage stamps. 
Locating Stamps at FedEx
FedEx does not sell U.S. postage stamps because it is not affiliated with the Postal Service. However, FedEx does have its postage options to offer.
Variety of Stamps at FedEx
You can not find various postage stamps in FedEx because it does not sell them. However, you can purchase postage stamps from various sources, such as your local post office or UPS. If you were to buy postage stamps, here are some options.
The most common stamps used are mail-use stamps. They are usually no more than an inch square and are printed in large numbers.
Commemorative stamps are issued by the U.S. Postal Service to honor people, events, and subjects of importance to American life and culture. They are printed only once a year as part of an annual program.
Commemorative stamps are larger than most mail-use stamps, many of which are in "semi-jumbo" size, the largest standard stamp category.
Special stamps, such as holiday-themed and Love series designs, are larger than the regular ones and typically on sale for a limited time.
Semipostal stamps are a special type of stamp that sell for more than standard First-Class rates and whose overage supports certain causes.
Stamps can be issued with a specific rate printed (denominated) or without any numerical denomination (nondenominated). The latter will always be valid for the current rate.
Forever stamps are non-denominated stamps. The majority of stamps issued recently are in this category.
Some older stamps, especially those using water-activated adhesive, are the "lick-and-stick" types. Be careful when storing them as they're prone to sticking together. Today's stamps are typically issued as self-adhesive or "peel-and-stick."
How Many Postage Stamps Can You Buy at FedEx?
You can not buy postage stamps in FedEx. However, you can purchase stamps in many locations, including post offices and UPS stores.
Stamps are sold as singles, others as books of stamps (20 stamps per sheet/book) or rolls or coils containing 100 stamps. You can buy stamps at a discounted price when older styles or Forever stamps are available.
What Other Postage Services Does FedEx Offer?
Although you can't buy stamps at FedEx, it can still help you send your letter or parcel. All the while transporting its customers' packages, FedEx also sells postage supplies.
You can check out its website and browse the company's selection of labels, envelopes, writing utensils, various types of tapes, boxes, bubble wraps, and other shipping items except for stamps.
How Can I Get to a Postage Facility at FedEx?
FedEx is one of the world's leading shipping companies. It offers a wide variety of postal services. Keep in mind that it does not sell stamps. However, it offers other postage services, as mentioned above.
FedEx is a global delivery service that can ship your goods anywhere. However, its delivery network is not tied to or part of the United States Postal Service. 
You can approach a shipping agent in any FedEx location and ask about your preferred options. You will be charged based on the weight of your package.
Finding a FedEx Location
There are hundreds of FedEx service centers nationwide. Use the FedEx location finder to search for a pick-up or drop-off point in your area.
You'll find the operating hours and contact information for your nearest location. While FedEx's corporate headquarters are in Memphis, Tennessee, the company operates in every state.
About FedEx
The first ever FedEx office was established in Arkansas by Fredrick W. Smith in 1971. The company's headquarters is in Memphis, Tennessee. The company employs 249,000 staff members in the United States as of 2021.
The company, now known as FedEx, operated initially under the name "Federal Express." It was in 2000 that FedEx adopted its current name. The company handles domestic and international shipping and provides transportation services for companies that need help moving goods worldwide.
FedEx remains one of the largest courier companies in the United States and has several affiliated businesses.
Kinkos is a well-known subsidiary for providing the same services as FedEx. Still, you can find Kinkos in many places where you cannot find FedEx.
What Days Is FedEx Open?
The vast majority of FedEx locations are open from Monday to Saturday. However, hours of operation may vary between locations. So be sure to check the hours at your nearest location before visiting.
What Hours Is FedEx Open?
Working hours at FedEx are from 9:00 AM to 6:00 PM at most locations. However, the hours at which FedEx provides service vary by store type and region.
Why Choose FedEx?
Why should customers use FedEx if it's not the right choice for buying stamps? Who do people trust most when they need fast delivery to distant locations?
You will likely want to select a courier with a proven track record in the industry, and FedEx is a well-known shipping company.
Choice. FedEx can handle any shipment with various shipping services. You can send packages to over 220 countries or import goods from other parts of the world.
Simplicity. You can use the free online tools to monitor shipments in real-time or get notifications about a delivery's progress.
FedEx has a range of advanced tools to help you get detailed reports and find out about duties and taxes on special shipments.
Live support. FedEx ships its products to 220 countries worldwide and has customer service centers in several locations. You can call the customer care line anytime or contact FedEx on its website.
Peace of mind. As an international shipping company, FedEx aims to provide reliable service to 220 countries and territories worldwide. With its extensive experience in customs clearance, FedEx aims to take the worry out of importing or exporting.
Savings. How you wrap your goods for shipment is important because it affects how soon the package can be delivered. So, FedEx developed its line of ready-to-use self-sealing shipping supplies like envelopes, boxes, and tubes. FedEx will deliver them to you for free.
But if you use your packaging, FedEx's Packaging Lab will test it to ensure it's suitable for air transportation.
Reassurance. FedEx provides a proof-of-delivery notice on every invoice, so you have no reason to doubt that the item was delivered.
Where Else Can I Buy Stamps?
You can buy stamps at your local grocery, pharmacy, convenience, and office supply stores. You can even get them at banks and ATMs.
You can also visit USPS.com and select "Locate A Post Office," then click "Alternate Locations to Buy Stamps" under "Options."
Frequently Asked Questions (FAQs)
1. Can FedEx weigh my package or envelope?
Yes, it can. Locate the nearest FedEx store and ask a representative to weigh your parcel.
2. Does FedEx sell envelopes?
It does, along with other postage supplies, except for postage stamps.
3. Can I buy stamps at UPS?
Yes, you can by visiting any UPS Store near you.
4. Does FedEx sell money orders?
No, FedEx does not sell money orders.
5. Can I mail a letter at FedEx? Should I mail letters at FedEx?
Yes, FedEx can help you with all your mailing or shipping needs.
References