Cheapest Way to Ship Large Packages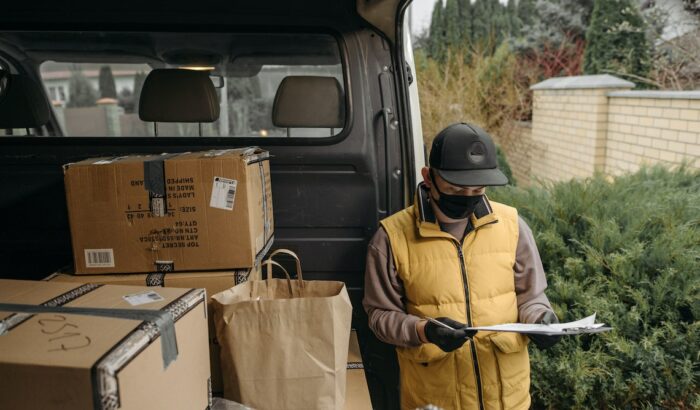 In 2021, parcel shipping volume reached 159 billion worldwide. Findings from Parcel Shipping Index revealed that the figure included large packages weighing up to 31.5kg or 70 pounds delivered across 13 countries.
The data suggests that the demand for shipping packages continues to increase. With this scenario in mind, shippers, including businesses that regularly send large or heavy packages, are considering practical ways to lower shipping costs.
If you want to ship an oversized package, what's the cheapest way to send it? What shipping method is the cheapest in terms of weight or delivery timeframe?
How do you calculate the cost of shipping heavy or large items? Are there any tips for shipping these items in the most cost-effective way?
This article discusses the cheapest ways to ship your heavy or large packages and compares the costs of various shipping methods based on weight and delivery speed.
It also discusses how to calculate the shipping costs for large or heavy packages to optimize your shipping budget.
It would help to consider several factors like weight and delivery speed when choosing the shipping service you need. It would also help you to determine the most practical and convenient way to ship large packages through USPS (United States Postal Service) or other couriers.
Visit FindPostOffice.org to learn more about the shipping methods for sending large or heavy packages. If you're looking for a post office to send your parcel, use FindPostOffice.org's search tool to locate one near you.
The Cheapest Way to Ship Oversized and Large Packages
Many retail businesses have unique challenges, including shipping large boxes, bulky products, and oversized packages.
For eCommerce businesses that stock numerous items or sell large or heavy products, shipping is a significant expense because of the fees and surcharges that come from delivering these goods.
To lower your shipping costs, you must familiarize yourself with the various delivery services of different carriers when shipping overweight or oversized packages.
Cheap Freight Shipping With USPS, FedEx, and DHL
Freight shipping is one of the cheapest ways to send large packages. You can check and compare the shipping prices of companies like USPS, DHL, and FedEx for the latest pricing.
USPS: This company has several shipping services and overnight shipping options. You can ship large packages with USPS in two ways:

Flat Rate shipping: This option is for products weighing less than 70lbs. USPS has small, medium, and large Flat Rate boxes shipped through Priority Mail and usually delivered in one to three days.
Retail Ground shipping: USPS offers this shipping option for packages that don't fit in a flat box. This option has a weight limit of 70lbs and a delivery time of two to five days. As of 2022, pricing starts at $8.80 at a Post Office.

FedEx: FedEx has two delivery services suitable for oversized packages:

FedEx Ground: This service accepts packages weighing up to 150lbs, a length of up to 108" (inches), and dimensions of 165" in length plus girth.
FedEx Freight: This option is for shipping pallets of heavy packages. You can calculate the shipping cost by the pallet's overall size and weight.
FedEx lets you check your shipment's freight class on the company's website. The company also allows you to create a label that serves as a bill of lading (BOL).
A BOL is a carrier-issued document acknowledging receipt of a shipment.
With FedEx Freight, you can also get quotes for less-than-truckload (LTL) freight shipping.
DHL: If you're sending international shipments, DHL is an excellent shipping carrier because the company partners with and co-owns several airlines worldwide.
DHL's Air Freight service includes options like:
Same Day Jetline: Typically arrives within 24 hours
Air Priority: Arrives in one to two days
Air Economy: Arrives in five to seven days
Cheapest Way to Ship Based on Weight
Your parcel's weight is a significant factor in the cost of shipping. So if you're shipping heavy packages, consider choosing a shipping service based on the weight of your package.
USPS Retail Ground and First Class Package are some of the cheapest options for shipping packages under 5lbs.
As of October 2, 2022, the shipping cost of a retail USPS First-Class Package that isn't over 4lbs starts at $4.80.
Meanwhile, Retail Ground starts at $8.80 for packages not exceeding 1lb. The price can go up to $125.20 for items 49lbs and below.
On the other hand, the United Parcel Service's (UPS) Ground prices based on 2021 rates start at $8.76 for items weighing 1lb or less and go up to $189.25 for items 49lbs and below.
The Cheapest Option for 50+ Pounds
UPS Ground has one of the best rates for shipping items weighing 50lbs or more. Rates start at $21.91 for 50-lb items. In comparison, USPS Retail Ground prices start at $41.60 for packages weighing no more than 50lbs.
Cheapest Ways to Ship Based on Delivery Speed
Different carriers have varying delivery times and shipping costs. The following are major carriers and their respective services based on delivery speed:
USPS
Various USPS products have the following shipping rates:
Priority Mail: 1-3 Days
This service lets you pay a flat rate for mailpieces weighing 70lbs or less. Shipping costs start at $9.
Priority Mail Express: Overnight
This next-day to two-day delivery service allows you to send packages up to 70lbs and costs from $27.25 upward.
Media Mail: 2-8 Days
USPS Media Mail lets you ship educational and media materials starting at $3.49 when sending from the Post Office.
Ground: 2-5 Days
If you're shipping oversized packages, Retail Ground is an economical and reliable option that starts at $8.80 at the Post Office.
FedEx
Shipping rates for the different FedEx services are as follows:
Ground: 1-5 Days
FedEx Ground takes one to five business days to deliver within the contiguous U.S. and three to seven days when shipping to and from Hawaii and Alaska. Prices start at $9.36.
Freight: Priority or Economy
FedEx Freight rates start at $2.23 per pound for overnight deliveries (FedEx First Overnight Freight), $1.59 per pound for 1Day Freight, $1.55 for 2Day Freight, and $1.51 for 3Day Freight.
For SameDay Freight fees, the rates are as follows:
Priority (deliveries with a two- to seven-hour commitment): Starts at $19.25 for the first 50lbs and a $0.39 surcharge per pound in excess
Economy (deliveries with a commitment of 5:00 PM to 8:00 PM of the same day): Starts at $12.75 for the same weight range and a $0.26 surcharge per pound over 50lbs.
DHL
DHL's heavy shipping options for international shipping include the following:
Air Freight
Because DHL owns or partners with several airlines, it provides an air freight service wherein your shipment travels with flights scheduled along major routes. This service also offers door-to-door delivery, including door-to-airport, and vice versa.
Ocean Freight
DHL's Ocean Freight service carries freight overseas on ocean carriers. Ocean Freight has full container load (FCL) and less than container load (LCL) options for cargo too big, heavy, or bulky to get a reasonable shipping price with other options.
Other Ways to Save
Aside from size and weight considerations, you can also use shipping insurance or hybrid shipping services to lower shipping costs.
Hybrid Services
Hybrid services involve having different carriers pick up the parcel and make the final delivery. These cost-effective services allow you to deliver to mailboxes or P.O. boxes or get around added costs like residential delivery surcharges.
FedEx and UPS Hybrid Services to Use
Consider the following services if you prefer to use hybrid shipping:
FedEx Ground Economy: A contract-based service combining FedEx Ground with USPS
UPS Mail Innovations: A service combining UPS Ground with USPS and works best for small parcels weighing less than 1lb
UPS SurePost: An economical combination of UPS Ground and USPS suitable for large parcels of up to 20lbs
How Much Does Shipping Large Boxes Cost?
The cost to ship large boxes depends on the box's exact size and, in some cases, the distance and speed the package will travel.
USPS is usually the cheapest option for single boxes, while USPS Priority Mail is the cheapest for large light boxes. If you must send heavy boxes or multiple packages, consolidated freight is among the most affordable shipping options.
Also, consider comparing the shipping rates for Flat Rate boxes among the different carriers.
Calculate the Costs of Shipping Large or Heavy Items
You can visit a particular carrier's website and use its online shipping calculator tool to calculate the shipping costs of large or heavy items. Specify the package type or measure the package dimensions to get the cost. Sometimes, you may need to input the shipment's origin and destination.
How to Determine Your Freight Class
Determining your package's weight class depends on the following factors:
Handling ease: How much care does your cargo need while in transit?
Density and stowability: How easy is it to stow your freight, considering its weight and size?
Liability: How valuable are the items you send, and how risky are they to transport?
How to Reduce DIM Weight Charges
To help reduce the shipping costs due to dimensional weight charges, consider the following options:
Packaging: Items placed in boxes that are too large can incur additional shipping costs. Consider packing your products in boxes small enough to be securely shipped.
Check your packaging and see if you can box your item more efficiently. For example, consider disassembling some products to fit in smaller boxes.
DIM factor: If you're a high-volume shipper, you may be able to negotiate lower shipping rates. You can also negotiate your dimensional or DIM factor. A higher DIM factor can help lower your DIM weight charges.
When you're calculating the DIM weight, multiply the package's width, height, and length, then divide the total by the carrier's DIM factor. The formula is:
DIM weight = (width x height x length) ÷ DIM factor
Ship by USPS: Shipping companies with higher DIM factors usually have lower shipping rates. USPS has a DIM factor of 166. Meanwhile, UPS and FedEx have a DIM factor of 139 for commercial shipping.
Work with third-party logistics: If you ship oversized items billed by DIM weight regularly, consider working with a third-party company that can negotiate rates with carriers for these shipment types.
Third-party logistics often handle a high shipping volume, allowing them to get better DIM pricing for business owners who ship with them.
What to Consider When Shipping Heavy Items
When you're shipping heavy packages, consider the following factors when choosing an appropriate shipping option:
Dimensional Weight
The DIM weight is the theoretical weight of your package based on the volumetric space your package occupies. The shipping company calculates how much your package weighs by applying a DIM factor and then charges you based on the actual weight or DIM weight, whichever is more expensive.
Fragile Items
If your item is delicate and can easily break, select a carrier with a good record of handling fragile shipments over a company with fast transit times but risks damaging the parcel shipping.
Origin and Destination of the Package
Carriers always use the package's origin and destination to determine the shipping zone you're sending the item to, regardless of the package's weight. The farther the destination, the higher the zone and shipping cost.
Carrier's Rules
Each carrier has rules that can significantly influence your shipping cost. Some carriers have different DIM factors and weight limits, and others have different handling priorities based on a package's fragility, size, weight, and destination.
Type of Service Being Used
The choice of carrier isn't the only decision you must make. You must also consider the appropriate service to ship your package.
Are you sending a package to a domestic or international destination? Do you require overnight or next-day shipping? If you have multiple packages, do you need to send them all at once? Consider these questions when choosing a carrier.
Tips for Shipping Large and Heavy Items
Before shipping large or heavy packages, ensure that you've packed your items securely using the proper packaging. Here are more tips:
Choose a Carrier
Whether you own a small business or run a large corporation, your shipments can encounter problems that aren't your fault. In this case, your customers can still associate the awful experience with your brand. So consider picking a carrier that strives to ensure customer satisfaction.
Get Insurance
Losing a package or getting a damaged item is something you don't want to happen, but it can still occur. To mitigate this risk and avoid the cost of having to replace the product, consider getting shipping insurance.
Although insurance is an added cost, what you pay isn't that much when you think of the benefits, especially when you're regularly shipping many packages.
The Advantages and Disadvantages of Each Freight Shipping Method
Each freight shipping method has its unique characteristics. Although each method has its strengths, there are also downsides to consider.
Ground Shipping
Ground shipping usually refers to freight moved by truck and is a popular method for sending large boxes domestically. In 2020, more than 60% of all freight in the U.S. moved via trucks.
One benefit of ground shipping is that it's more flexible than other transportation modes. Because trucks can go almost anywhere with a road, their drop-off points aren't limited to airports, seaports, and train stations.
However, the disadvantage to using trucks for shipping freight is that they can take longer to arrive at their destination.
If your package's destination is too far, and you want your oversized package delivered on the next business day, ground shipping may not be the best option.
Trucks can also get stuck in traffic, have a flat tire, and make several stops along the route, causing the delivery to get delayed further.
Ocean Shipping
Ocean shipping is the most popular method for shipping packages internationally. A report mentioned that 70% of global freight traveled by sea in 2015.
Because oceans and seas separate many countries, ground shipping isn't an option for many international shipping options.
An advantage of ocean shipping is that it's significantly cheaper than air freight. In some cases, sending cargo by plane can cost five times more than sending the package by ship.
However, shipping by sea can be slow. While air freight shipping can take about a couple of days, sea freight can take two weeks or more to arrive.
Other ocean shipping concerns are security and the environment. Rough seas can damage the ship's cargo, and fires can occur on ships. Piracy is another risk despite this activity's decline over the last decade.
Rail Shipping
Rail shipping or transporting by train is a standard method for shipping bulk items like lumber, grain, raw ore, and coal.
This method can be your best option for shipping large quantities of heavy items that are more than a truckload over land. Railcars can hold four times a standard tractor trailer's cargo capacity, so bulk rail shipping usually costs less.
A significant limitation of rail shipping is that trains can only go where there are rails. So in many cases, this method can't take cargo to its final destination and instead has to rely on combining rail and ground shipping.
Air Shipping
If you have overnight deliveries or cargo that must arrive quickly, consider air transport as your shipping solution.
One immediate advantage of air shipping is speed, especially considering how fast an airplane travels compared to ships, trucks, or trains.
But speed is almost always coupled with high prices. A market study by the World Bank showed that air freight could cost 4 to 5 times that of ground shipping and 12 to 15 times more than sea transport.
What's Considered Freight Shipping?
Freight is any package too heavy or oversized to transport through traditional mail. Freight shipping involves transporting large items like cargo, goods, and merchandise by sea, land, or air.
Common freight shipping types include:
Less-than-truckload (LTL): This shipping category is for relatively small shipments, usually between 150lbs and 15,000lbs.
Full truckload (FTL): This service typically handles packages weighing more than 15,000lbs. FTL shipping is costly but can arrive faster and with less freight damage.
Partial truckload (PTL): This category combines LTL and FTL and is cheaper than FTL. With PTL, you can send larger items than LTL allows. Consider choosing PTL if you're shipping items weighing 5,000lbs to 38,000lbs.
Expedited: An expedited shipment usually gets delivered faster than regular transit times. Trucks delivering expedited packages move from pickup to delivery with few or no stops along the route.
How Is Freight Shipping Different From Parcel Shipping?
Freight shipping is different from parcel shipping due to the following factors:
Delivery times are estimates that can change: Some parcel shipping options like Priority Mail Express provide guaranteed or on-time delivery.
Meanwhile, freight shippers only provide an ETA (estimated time of arrival) because of the difficulty of predicting a shipment's arrival. So freight delivery times are rarely guaranteed.
You must disclose the contents of your package: Freight shipments typically travel with a BOL containing details of what the carrier is moving. Shippers must know the contents of your box or pallet to move your items safely.
Density and durability matter: Aside from the package's size and weight, your item's density also affects shipping rates. When you send a non-freight parcel, heavy items are more expensive to send than lighter ones.
However, with freight shipping, heavier items aren't always more expensive. For example, bricks are more economical to ship than ping-pong balls, which are less sturdy, not as compact, and more prone to in-transit damage.
How to Ship Large Items and Oversized Packages
To determine the cheapest way to ship oversized items, you must consider the package's weight and dimensions. You can send a piece of paper and still be subject to additional shipping charges. The reason? Dimensional weight.
Many shipping companies use dimensional or DIM weight to determine an item's shipping price based on the package's dimensions.
So if your item weighs 5 pounds (lbs), but the DIM weight is 20lbs, the shipping company will bill you for 20lbs.
UPS, FedEx, and USPS use different DIM factors to determine the oversized packages' DIM weight. Before you choose which company to ship your package with, consider comparing their DIM factors and shipping rates to see which service is most affordable.
How Can You Ship Several Large Boxes?
When you're shipping several large boxes, consider palletizing them. This method lets you load and unload your boxes quickly, and the risk of loss or damage to your shipment is significantly lower.
Some carriers or third-party logistics offer palletization services for an extra fee.
Consolidated Freight
Consolidated freight allows you to ship large boxes with other items headed in the same direction. This option lets you ship your item with little impact on your shipping costs unless the package reaches a specific size.
For example, some consolidated freight carriers apply a surcharge to packages exceeding a specific length.
Consolidated freight shippers can offer the following services:
Flat rate: Some consolidated freight carriers offer flat rate box shipping services for large boxes with specific dimensions.
LTL or economy shipping: Carriers offering LTL shipping can let you pack your boxes and help with loading and unloading. LTL usually provides cheap shipping and fast delivery times, making this service ideal for items that aren't too valuable or fragile.
White glove service: Some carriers with this service often provide pickup, delivery, and professional packing services. White glove service is typically more expensive and has longer timelines. However, it's ideal for delicate or valuable items like antiques, art pieces, and heirlooms.
How to Ship Heavier Items Weighing Over 70 Pounds
One option to consider when you're shipping items heavier than 70lbs is to use UPS shipping.
UPS
If you want to ship items over 70lbs but less than 150lbs, UPS requires you to place a "heavy package" sticker on the box with the package's weight written on the sticker.
If your package is over 150lbs, consider shipping with UPS Freight. Check out their pricing and guidelines when choosing this option.
Shipping Large Items Internationally
Shipping large packages overseas is often a complex task. International shipping costs for large items are usually higher than domestic shipments, and packages shipped overseas often require customs documents.
Consider shipping with a reputable carrier with affordable rates for shipping large items internationally. It also helps if that carrier has a shipping calculator to compare prices between courier companies and ensure that you get the best service.
Best Shipping for Oversized Packages: UPS Ground Service
If you're shipping appliances, furniture, and other heavy items, consider UPS or FedEx. These carriers can ship up to 150lbs through their regular shipping services. In comparison, USPS Priority Mail only allows up to 70lbs.
COVID-19 Precaution
The COVID-19 pandemic has affected many businesses worldwide, including shipping companies. Even the USPS website has a notification that some packages may arrive late due to an ongoing emergency.
To reduce the risk of getting affected by the disease, workers within the logistics chain must comply with the following safety recommendations of the CDC (Centers for Disease Control and Prevention):
Wash hands or use hand sanitizer
Wear a cloth face covering
Practice social distancing
Follow local health guidelines
FAQs
What is the biggest box USPS will ship?
USPS can ship packages up to 108" in length and girth through standard mail services. Oversized pricing applies to packages up to 130" in length and girth, and the shipper must use Retail Ground.
If you want Flat Rate pricing, the largest boxes you can ship with USPS Priority Mail are:
Large Flat Rate Box: 12 1/4" x 12 1/4" x 6"
Large Flat Rate Board Game Box: 24 1/16" x 11 7/8" x 3 1/8"
How do I pack a large box?
Follow these steps when packing a large box:
First, assemble the box and line it with padding. If you're moving household items, pad them with crumpled magazines or newspaper pages inside the box. Retailers can also use large bubble wrap or packing paper.
Wrap items individually using bubble wrap or packing paper, especially if you're sending fragile items.
Avoid using foam peanuts as they aren't environmentally friendly and can shift around inside the box during transit.
Next, put the heavy items in the box first, and place the lighter ones on top. Pack sufficient padding between layers.
Afterward, seal the box using high-quality packing tape and ensure to seal each seam.
Lastly, label the box based on the shipping company's requirements.
Which is cheaper: UPS or USPS?
USPS is almost always the cheapest way to ship packages weighing less than 16 ounces (oz). But UPS Ground can be cheaper for packages weighing over 2lbs.
Which is cheaper: FedEx Or UPS?
The shipping costs of these shipping carriers are roughly the same. But you can negotiate with these companies to get better shipping rates, primarily if you frequently ship large or bulky items.
How can I get free shipping supplies?
USPS can send you Priority Mail and Priority Mail Express shipping boxes for free by ordering on the USPS website. You can also get free shipping labels at the USPS Postal Store.
Does UPS ship large packages?
UPS can ship large packages that weigh up to 150lbs and measure up to 165" in length and girth.
Does USPS have a size limit?
USPS has a package size limit of 70lbs in weight and, in many cases, less than 108" in length and girth.
How much does shipping a 70lb package cost?
If you're sending items through USPS shipping, you can pay a flat rate for mailpieces weighing up to 70lbs going to Houston, Phoenix, San Antonio, Indianapolis, Oklahoma, Denver, Miami, Cleveland, and any destination in the U.S.
The price for sending items using Flat Rate envelopes is $9.90 when you buy the postage online or at the Post Office. For small boxes, the price is $10.40. Meanwhile, medium boxes cost $17.05, and large boxes cost $22.45.
References